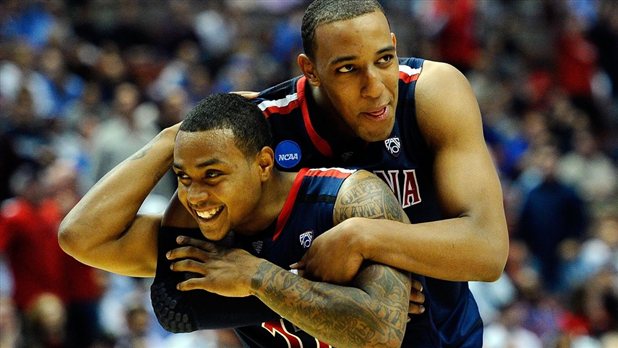 The unexpected happened. Every one of Thursday's games defied the log5 odds. One or two toss-up games? OK. But to see Arizona, Butler, UConn and Florida all win on the same night?
That's the magic of the NCAA tournament. It all shouldn't have happened, but did.
And it's fantastic.
Arizona pulled off the night's big upset vs. Duke. Vegas had the Devils as 9.5-point favorites. Basketball Prospectus gave the 'Cats a 17.1 percent chance of winning . Yet they drilled Duke by 16 thanks to a monster 55-point second half points and the unstoppable play of forward Derrick Williams, who finished with 32.
"The way they played in the second half, they should win it all," Duke's Nolan Smith said. "Williams is a monster. They hit us full force, and kept hitting. They did everything right, and we did a ton of things wrong."
Was it Williams? A hot hand by the 'Cats? Duke's lack of athleticism? Whatever the reason, it's now Arizona vs. UConn for the Final Four. A 5 seed vs. a 3? Didn't see that coming.
"I think the resiliency and the heart this team displayed has been phenomenal," UConn coach Jim Calhoun said.
"We talk as coaches about chemistry, right before your eyes you're seeing a bunch of young guys who truly believe in each other and that's a common myth, and I have them believing that no one gave them any respect early which is true and you have to earn respect all along the way, and they've done that."
The Huskies – a two-point underdog to San Diego State – had a 41 percent chance to win the game. Yet with Kemba Walker doing his thing (36 points) and Jeremy Lamb hitting key shots (he finished with 24) they pulled away for an impressive 74-67 win in a game that had more ebb and flow than any other of the night.
UConn led by nine early and by eight to start the second half. The Aztecs pulled ahead 53-49 with 9:19 to play, but couldn't do enough.
"Both teams fed off each other," said Aztecs' guard D.J. Gay said. "When one team threw a punch, the other team threw a punch. As the game went on, it got more physical — us not backing down and them not backing down."
Not backing down also applies to Florida's defense.
Tabbed as the weakest of the tournament's 2 seeds, the Gators might be the only one left after tomorrow. They hounded Jimmer Fredette, the nation's leading scorer, into 18 missed shots, displayed impressive toughness inside – senior Alex Tyus went for 19 and 17 – and pulled away in overtime, 83-74.
Perhaps their inclusion in the Eight Eight isn't a massive surprise (they were a two-point favorite), but it's hardly expected. The Gators entered this season without an NCAA tourney win since '07. It doesn't have a star. Yet here they are, ready to play a familiar foe when it comes to pulling off upsets.
Oh, Butler. What would March be without you?
The 9-seed Bulldogs pulled off the upset of the tournament last week vs. No. 1 Pitt, then staged another vs. 4-seed Wisconsin. Slight underdogs by Vegas – and big ones by BP – Butler hounded Wisconsin early, leading by as many as 20 before the Badgers made a run.
Butler's 61-54 win places it one win from its second-straight Final Four, which not only defies significant odds (1-in-2,506), but goes in the face of millions of submitted brackets. But after last year's run to the championship game, it probably shouldn't be a surprise to see the Bulldogs win. It's not to them.
"I don't know necessarily that I'm shocked by it because I know what this team is capable of," senior Matt Howard said. "You know, the type of guys that we have, and when we buy into the coach's game plans and are able to execute it. So not necessarily shocked by it, but very happy that we were able to execute again tonight and get the job done."
Half of the Sweet 16 games are done and we're left with a 2, 3, 5 and an 8 seed vying for the Final Four. That wasn't predicted.
But for March? This is exactly what we expect.
You also can follow me on Twitter @MikeMillerNBC