OK, one last preview post before today's games. It's short and sweet. But it's not one Butler and Arizona fans will be happy about.
The Bulldogs and Wildcats both reached the Sweet 16 after winning close, dramatic games – by an average of 1.5 points. That could be a bad omen.
As Jared Diamond writes at the Wall Street Journal, teams that win two close games to start the tournament rarely advance past the Sweet 16. Only six teams who won their first two games by two points or less ever made it this far since the NCAA tournament expanded in 1985.
Only one of those made it to the Elite Eight. And that just happened to be a defending champion (Arkansas, in '95). Here's a table that illustrates it.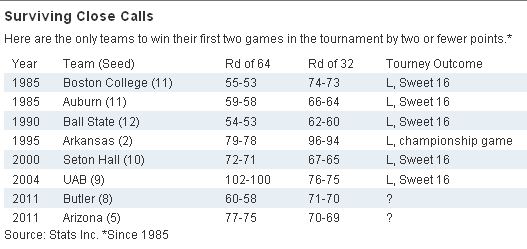 Two thoughts: One week's performance doesn't always indicate how a team will perform the next. Every team on that list was a lower seed pulling off upsets – except for that Arkansas team. (Though … notice how close the Sweet 16 losses were! One lucky bounce and this goes out the window.)
Also, that's just anecdotal evidence. How those teams played has nothing to do with how Butler or Arizona have played this year.
You also can follow me on Twitter @MikeMillerNBC.