There's no defending the Big East's NCAA tournament performance. The conference was deserving of 11 bids – Marquette was the "worst" of its tourney teams, and it's still playing – but the way its top teams performed ensured it wouldn't escape criticism.
Pitt, Notre Dame, Louisville and Syracuse out before the Sweet 16? Nothing will ease that. Even if the league's two remaining teams, UConn and Marquette, win every one of their remaining tournament games, the league won't match its Performance Against Seed Expectations (PASE). Can't happen.
But … what say we move on from only talking about the Big East, shall we? It's hardly the only conference that will fall short of its expected tournament wins.
The table below details the PASE for each conference and what's left for those conferences to do.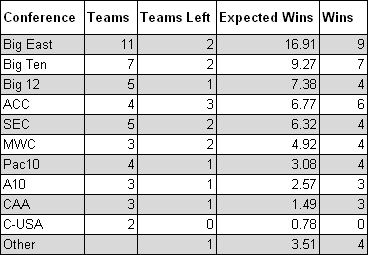 For instance: Unless Kansas – the Big 12's only remaining team – wins it all, the Big 12 will fall short. The Big Ten (Ohio State and Wisconsin) and SEC (Florida and Kentucky) both have two teams remaining, but each need two wins to meet expectations.
Even the Mountain West, which has two of its three teams still in play, needs another win to meet its seed expectations because San Diego State and BYU have done exactly what they should, nothing more.
As for the teams who have met expectations thus far, it includes the A-10 (bravo, Richmond and Temple), CAA (VCU, getting it done), Pac-10 ('Zona, Washington, UCLA all did what they should've) and the ACC.
In fact, gotta give it up for the ACC. The league's fallen short of its PASE the last few years when only Duke or North Carolina would win tournament games. This year, with the Devils, Tar Heels still around and Florida State joining them, the ACC's done well thus far.
But even it could use one more win.
You also can follow me on Twitter @MikeMillerNBC.