If March Madness were staged on Twitter, Duke wouldn't get out of the first round.
That's according to a bracket pumped out by Empire Avenue, which is labeled a "social media exchange" because you can buy and sell virtual shares in social media profiles. I know. It sounds odd. Let's have the folks over at Tech Crunch explain it:
Yes, Empire Avenue has provided us with a full bracket that tells us what team would become the NCAA National Champion were the tournament to be decided by Twitter account activity. Finally! Like a Klout Score, Empire Avenue's metrics take into account how much activity the school's Twitter account has, along with the number of followers, replies, retweets, and so on. The metrics prioritize the basketball team's Twitter account, but in the event the team did not have a Twitter account, they used the school's Twitter account.
Got it. Except … looking at the bracket result below, I'm not sure I buy the idea that Hampton University has more social account activity than Duke. Guessing the team/school Twitter account isn't up to the level of Duke fans on Twitter.
Because there's plenty of those out there.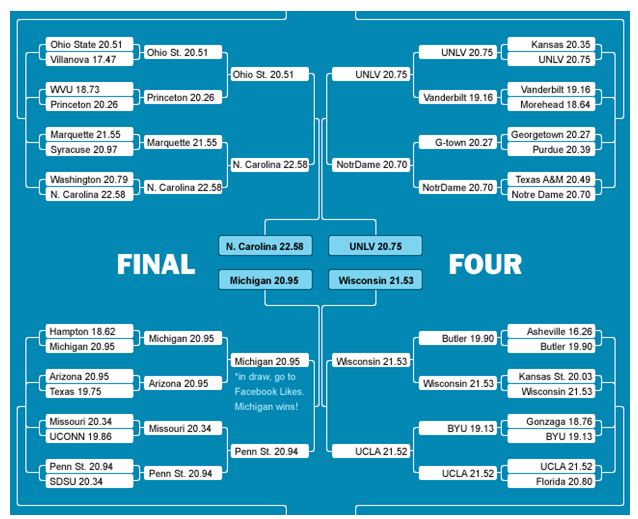 (Thanks, Tar Heel Times.)
You also can follow me on Twitter @MikeMillerNBC.