Everyone saw what Ohio State did during its first two NCAA tournament games. By any measure, the Buckeyes dominated unlike any other team.
Scoring 86 points and winning by 31 points a game is nasty. And  to do it over 124 possessions is just silly. That's 1.4 points per possession for an efficiency margin of .492 points. (shakes head). Yes, it's a two-game sample size, but quite the two games.
But what about the other teams? How have they performed during a short time frame and against vastly different opponents?
(This is my reminder that all NCAA tournament games are not created equal and to judge blowouts the same is foolish. That said, let's plow ahead anyway.)
Here's a table with your basic tempo-free stuff, with win margin added. Want to note how it compares to efficiency margin.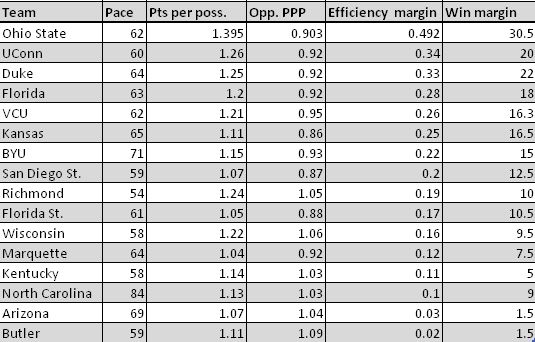 Some thoughts:
VCU is on a tear. Three games vs. major conference teams and it's winning by an average of 16.3 points a game and is posting a better efficiency margin than the Southeast Region's top seed, Kansas.
San Diego State's looking good. But UConn's done even better, and against tougher competition, no less. That may be the best game of Thursday and Friday.
No surprise to see Arizona and Butler at the bottom given they've both won two nail biters. But North Carolina below Marquette? The Golden Eagles could be primed to continue their run.
Florida's on a roll, but so is BYU, and against better opponents.
You also can follow me on Twitter @MikeMillerNBC.