Unless Kyle Singler finds his groove from last year's NCAA tournament, Duke isn't winning it all. It might not even make Elite Eight.
The Devils survived Michigan's monster rally on Sunday for a 73-71 win and reached its 12th Sweet 16 in the last 14 years. Yet Singler, the senior forward who was the Most Outstanding Player at last year's Final Four, turned in another sub-par game. He finished with 13 points, but missed seven of 12 shots and never got comfortable against the Wolverines' 1-3-1 zone.
It's been more than a month of inconsistent offensive performances from Singler, who's gone from forgettable nights (8 points on 3-of-14-shootin vs. UNC) to can't miss-outings (29 points on 10-of-15 shooting vs. Maryland) to games where's just another contributor (pretty much the last three games).
Sunday was just Singler's fourth game with an offensive rating above 100 (the D-I average) in the last month and his sixth since Feb. 2. From StatSheet: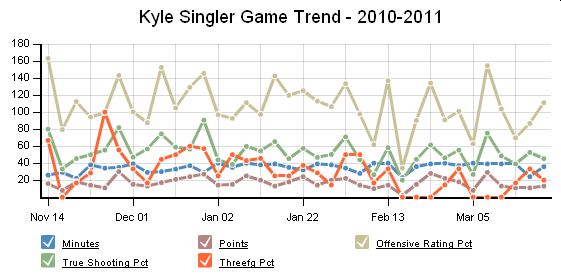 Note that orange line along the bottom. Singler hasn't made more than one 3-pointer in a game since Feb. 13 and didn't make any in six of those 12 games since. Unless he's a threat from outside, defenders can slack off and collapse the middle, making it tougher for Duke to have dribble-penetration.
Duke's loaded with guys who can score, but Singler's perhaps the most important among their scorers (Nolan Smith, Seth Curry, Kyrie Irving) because he's their lone frontcourt scoring threat. He has to stretch the defense.
Not that Singler's irrelevant without hitting from outside.
He's still an effective rebounder and is essential to Duke's defense. When he left the Michigan game midway through the second half because of his fourth foul, it was hardly a coincidence that the Wolverines staged their run.
That's one of the reasons why he plays so many minutes (35.6 since Feb. 2, including four games where played the full 40), but could also be the main culprit behind the shooting woes. Tired legs can sap even the best shooters this time of year.
But he'll need find that range. And soon.
This video is no longer available. Click here to watch more NBC Sports videos!
You also can follow me on Twitter @MikeMillerNBC.