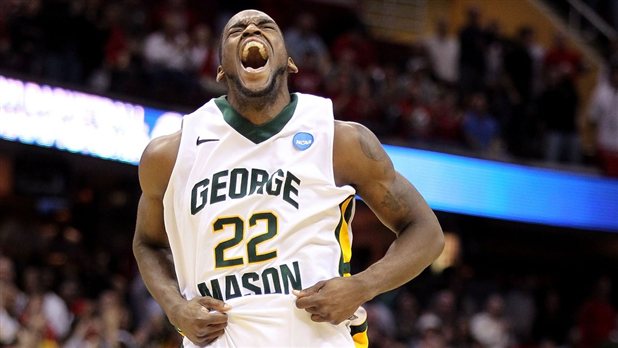 Game of the Day: George Mason 61, Villanova 57
Villanova looked to be in control of this game. Corey Fisher was playing well, Corey Stokes was shooting well, and Mouph Yarou was a monster in the paint. On the other hand, George Mason was getting nothing out of their stars, as Cam Long and Ryan Pearson were both struggling to score. The Patriots were able to chip into Nova's lead, getting it to within one point on a couple of different occasions, but each run that George Mason made was answered by the Wildcats.
But down six with two minutes left, the Patriots made a run. Isaiah Tate hit a long three from the corner followed by a and-one in the paint from Pearson. After another stop, Mike Morrison threw down a huge tip-dunk with 55 seconds left. Fisher was fouled shooting a three and hit all three free throws, but Luke Hancock drilled a step-back three with 30 seconds left for a 59-57 lead. Villanova missed two shots at the other end, and Mike Morrison had a dunk at the buzzer to give us the final margin. Gus Johnson was perfect for this one.
Player of the Day: Derrick Williams, Arizona
In a game full of storylines, the outcome probably exceeded the hype. Williams originally committed to USC, but with the drama surrounding the O.J. Mayo scandal, Williams re-opened his recruitment. He nearly went to Memphis, but opted on staying closer to his Southern California home and head to Arizona. That choice would haunt Memphis and Josh Pastner, a former Arizona assistant.
Williams scored 22 points and added 10 rebounds for the Wildcats, including a late 3-pointer that gave Arizona a 68-65 lead late in the second half. Memphis would scrap their way back into the game, getting the lead down to 75-74 on a layup after a steal on an in-bounds pass. After two Momo Jones free throws put Arizona up by three, Arizona fouled Joe Jackson with 4.6 seconds left. Jackson missed first and hit the second. The rebound came to Wesley Witherspoon who looked to have an open layup until Williams came out of no where to block the shot and seal the win.
Team of the Day: Illinois Fighting Illini
UNLV was the overwhelming favorite to win this game. It was a combination of reasons, but the biggest was that the Illini had struggled down the stretch of the season. It wasn't for a lack of talent — quite the opposite, actually, as the Illini have the talent to be a top 15 team. The issue was execution. Illinois, and specifically star Demetri McCamey, was playing selfish basketball. There was no aggressiveness, they were settling for tough threes, and it looked like, for the most part this team had lost their confidence.
Well, the Illini apparently solved that problem. Illinois jumped out to a 39-16 lead, took a 46-24 at half, and cruised to a 73-62 win. McCamey finished with 17 points and seven assists, making seemingly every play early in the game, while Mike Davis added 22 points, nine boards, and five assists. It sets up and intriguing situation on Sunday. The Illini will face Kansas, and if they are once again playing this well, they have a shot at knocking off the Jayhawks.
Anti-Team of the Day: Tennessee Volunteers
Well, the Vols quit on their season. Down 33-29 at the half, Michigan absolutely dominated the second half, outscoring Tennessee 42-16 and winning 75-45 despite not making a single free throw. And as much credit as the Wolverines deserve for the win, the blame has to fall square at the feet of the Vols, who rolled over and died with about 18 minutes left in the game. It's tough to rip the kids, who have been through a tough, drama-filled season rife with scandal and rumor-mongering. The question now becomes whether Bruce Pearl will still be Tennessee's coach next season.
– Texas 85, Oakland 81: Tristan Thompson won the battle of the bigs, finishing with 17 points, 10 boards, and seven blocks while holding Keith Benson to 15 points, 11 boards, and 6-15 shooting. More importantly, however, the Longhorns rolled past the Golden Grizzlies. Don't let the final score fool you, Texas was in control for most of this game, opening up a lead as big as 17 in the second half. Reggie Hamilton led a surge at the end to make the score respectable, but the 40 points that Texas got from Jordan Hamilton and J'Covan Brown was just too much.
– Marquette 66, Xavier 55: The Golden Eagles made a statement against Xavier. The Musketeers, who were considered the best team in the Atlantic 10, lost to the only bubble team in the Big East conference. And that 11 point final margin doesn't do this game justice. The Golden Eagles were up by as much as 18 points in the second half, and Xavier never was closer than eight. Tu Holloway finished with five points on 1-9 shooting. Darius Johnson-Odom had 19 points to lead Marquette, while Jimmy Butler and Jae Crowder combined for 25 points on 9-14 shooting.
– Washington 68, Georgia 65: This was an impressive win for the Huskies. They had no answer for Trey Thompkins inside — he finished with 26 points and 11 boards — and they shot just 4-18 from three, but they still managed to hold a pretty solid lead for much of the second half. Washington used a 17-7 push at the start of the second half and was bouyed by 19 points and seven assists from Isaiah Thomas.
– Florida State 57, Texas A&M 50: In one of the uglier defensive battles we've seen in this tournament, the Seminoles pulled away down the stretch on the strength of Derwin Kitchen (15 points, seven boards, three assists), Bernard James (10 points, three blocks), and a big jumper from Michael Snaer. More importantly, however, Chris Singleton was back in action. He played just 16 minutes, and had nearly as many fouls (four) as points (five). He's definitely not 100 percent yet.
– VCU 74, Georgetown 56: VCU jumped all over the Hoyas, taking a 35-24 into halftime and pushing the lead to as much as 25 in the second half. VCU hit 12 threes and got 26 points out of Brandon Rozzell in the win. Joey Rodriguez added 17 points and seven assists. Surprisingly, it wasn't Jamie Skeen that made the difference tonight. Georgetown never seemed comfortable against the Ram's press and Chris Wright was clearly not at 100 percent. How about this — Wright and Austin Freeman combined for 16 points, no assists, five turnovers, and 6-27 shooting, including 0-14 on threes.
– Syracuse 77, Indiana State 60: The Sycamores hung around for about 30 minutes, but the Syracuse frontline ended up being too much. Rick Jackson had 23 points and seven boards, CJ Fair added 14 points and seven boards, and Kris Joseph had 10 points and 10 boards in the win.
– UNC 102, Long Island 87: The Blackbirds never seriously threatened the Tar Heels, but this was still one of the day's most entertaining games. Both teams like to get up and down the floor, and the result was 189 combined points. John Henson was the star, finishing with 28 points, 11 boards, and six blocks, but Tyler Zeller (32 points, nine boards, three blocks) and Harrison Barnes (24 points, 16 boards) also played great. I think it is safe to say that UNC's front line was too much for LIU.
– Notre Dame 69, Akron 56: The Zips gave the Irish a fight, trailing by just four points at the half and remaining within striking distance for much of the second half. Carleton Scott was too much inside — 14 boards, three blocks, three steals — while all six of the Irish rotational players finished with between eight and 15 points.
– Purdue 65, St. Peter's 43: The Peacocks proved to be tough defensively, but they just didn't have enough firepower offensively to knock off the Boilermakers. JaJuan Johnson finished with 16 points (on 6-16 shooting) and 16 boards while E'Twaun Moore scored 19 points in the win.
– Duke 87, Hampton 45: There usually isn't much to report for a game like this. But since Kyrie Irving played for the first time in three months, there is. Irving led the team with 14 points, but most of them came in garbage time. He looked rusty and out of shape, but that is sure to wear off in the next week. Watch out.
– Ohio State 75, Texas-San Antonio 46: This was a game for all of about seven minutes. Then Ohio State took over. William Buford led four scorers in double figures with 18 points, and the Buckeyes assists on 26 of their 29 field goals.
– Kansas 72, Boston 53: Kansas won by 19 points, but it was a dog fight in the first half. BU's John Holland, playing on a bum ankle, scored 19 points and kept the Terriers within four points at the half. In the end, however, the Jayhawks were just too talented. The five Jayhawks starters finished with between eight and 16 points.
Rob Dauster is the editor of the college basketball website Ballin' is a Habit. You can find him on twitter @ballinisahabit.