Gonzaga's not too impressed with Jimmer Fredette's scoring feats. They'll tout one of their own, thanks
"He's a great player," Gonzaga center Robert Sacre said. "But we also had Adam Morrison with us before. We've seen great players."
It was all about Fredette and Morrison Friday during the Gonzaga-BYU pregame press conferences. How to defend a great scorer? How do they affect team chemistry? How do the two compare? Etc., etc. Here's what Gonzaga coach Mark Few said about it:
"They're both, I think, once-in-a-lifetime players. Their drive, their ability to score, how clutch they are. Jimmer reminds me so much of Adam. He hits closely guarded shots. You don't see that many guys who can consistently make closely guarded shots like that."
So how do they actually compare? Pretty close. From StatSheet: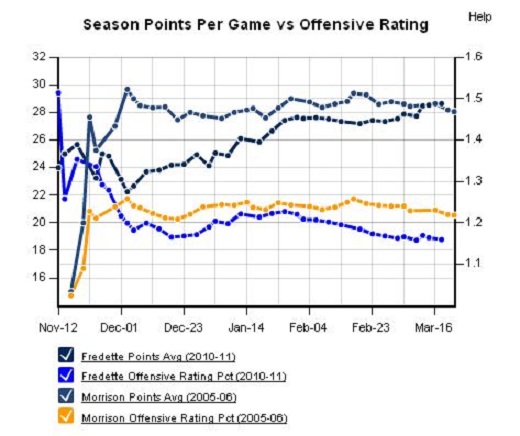 They're basically even in scoring — Fredette averages 28.6 ppg, Morrison went for 28.1 — though Morrison has Fredette in scoring efficiency.
Of course, they do play different positions. Fredette plays point and has the ball in his hands more often than Morrison. But the biggest similarity has to be the shooting. Either could hit from anywhere on the court and did so at a very high percentage.
Only question now is if Fredette will advance further in the NCAA tournament than Morrison did. His Zags lost to UCLA in the '06 Sweet 16. Beating the Zags would Saturday would only make them even.
You also can follow me on Twitter @MikeMillerNBC.