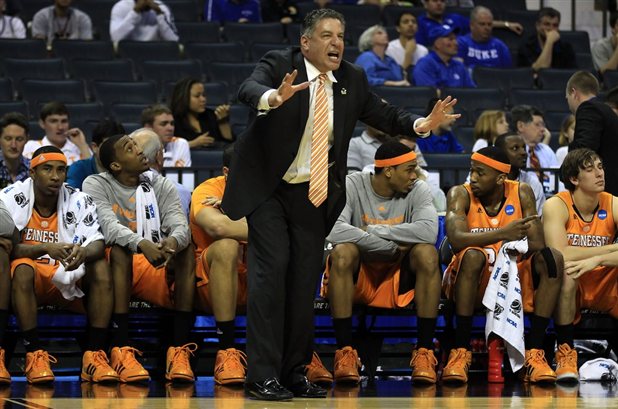 Michigan made a first-round NCAA tournament win over Tennessee look easy. Should make the Vols' impending decision on Bruce Pearl's coaching fate even easier.
All the talk before Friday's game centered on Pearl's job status. Vols athletic director Mike Hamilton told a radio station on Wednesday that the "jury was still out" on Pearl's job, prompting numerous questions for Pearl and his team.
Guess it stuck with them.
The Vols started well vs. the Wolverines, leading by eight in the first half. But they fell apart late in that half and managed just 16 second-half points before losing 75-45. That's a margin more befitting a 1 seed beating a 16, not an 8 over a 9.
Small wonder Pearl looked like this during the final moments.
The Vols couldn't do anything right. They couldn't shoot (just a 38 eFG%) or defend (Michigan's eFG% was 56.8). The Wolverines didn't even make a free throw (they were 0-1) and still won by 30. That's absurd.
And a sign of a team that had given up. Freshman forward TObias Harris admitted as much: "We didn't play with no heart …. we basically just quit."
Now? Expect Tennessee to be done with Pearl by the end of the day, if not sooner.
He's technically not employed by the school now, but his status was still up for evaluation after the season. Despite making the NCAA tournament in each of his six seasons at Tennessee and turning the program into a national relevant program, he's done. He broke NCAA recruiting rules, lied about it, then committed more violations after he was busted. He has since served an eight-game suspension and forfeited $1.5 million in pay over the next four seasons.
"We're going to be evaluated just like Mike Hamilton said, and I'm going to be able to go there and say we went to the NCAA tournament six times and three Sweet 16s and an Elite 8," Pearl said afterward.
"We made some mistakes. We're going to try to be accountable for those mistakes, but my goal and desire is to be the basketball coach at Tennessee next year and for a long time."
Cynics would claim that Pearl's job would be secure if he was winning games, and they'd be right. A school can overlook things if they think the bad press is worth the potential gain.
But there's nothing left for Tennessee to gain by employing Pearl. The Vols have slid into an average SEC team and just got pummeled in the NCAA tournament. That's what you call going out with a whimper.
You also can follow me on Twitter @MikeMillerNBC.