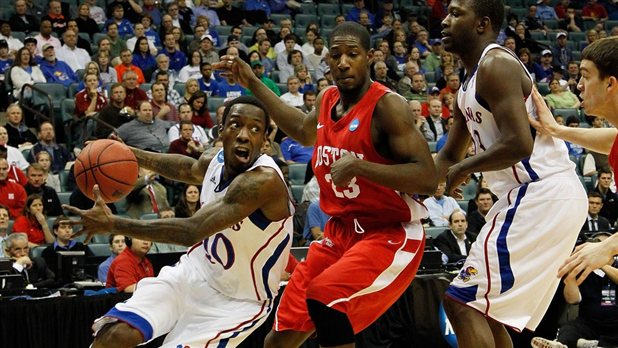 Kansas followed a forgettable half with 20 minutes more befitting a team of their offensive talents. Not that it'll make coach Bill Self that much happier about a 72-53 win against 16-seed Boston.
This one had shades of the 2010 NCAA tournament. And they don't talk about that tournament in Kansas circles.
"The thing about it is when you talk about the past, and it's not positive, you bring in negative thoughts. I don't want that. I don't care if they read that stuff. I don't care. I just want them in the back of their mind, which I know they feel, is why would this happen?" Kansas coach Bill Self said.
"So we've reminded our guys whatever happened last year that didn't give us the best opportunity, we're not going to let that happen this year. That is the biggest reason for it."
The Jayhawks (33-2) led by just four points at halftime after making just 42 percent of their shots. The second saw them hit 62 percent and outscore the Terriers 39-24. Two things helped: Boston used a man-to-defense more often (bad move) and the Morris twins, Marcus and Markieff, established themselves inside. They combined for 31 points and 17 rebounds.
"I think the emphasis of our game plan is to go inside and play inside out. But they were clogging the middle up. They were playing the zone, and we were kicking out to our shooters. In the first half we didn't make that many," Markieff said. "But I think in the second half we made them start guarding our shooters and then opened it up for us down low."
So, this should serve as a wake-up call for Sunday's game against the UNLV-Illinois winner, right?
(clears throat)
Allow me to quote Sherron Collins after last year's less-than-impressive win over Lehigh.
"It's a good thing we got tested," Collins said. "We needed that. It'll get us ready for games like this because there'll be more games we get tested in this tournament. It's a crazy tournament."
Like I said, what followed isn't mentioned in Kansas circles. But I'm certain Self will reference "it" at some point. And the players will have in their heads as well. That's the only time a game like this turns into a positive.
You also can follow me on Twitter @MikeMillerNBC.