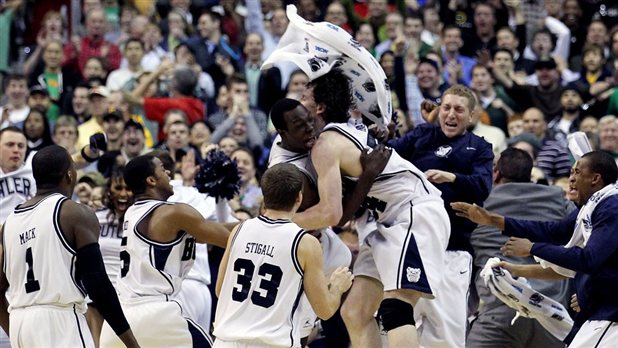 Last year, the first day of the NCAA Tournament was epic. BYU and Florida went to double overtime, Danero Thomas of Murray State beat Vandy on a buzzer-beater, Quincy Pondexter beat Marquette, and Ish Smith knocked off Texas in overtime.
And it looks like history is repeating itself. I'm certainly not complaining.
Butler and Old Dominion went back and forth for 40 minutes, trading the lead 22 times, an enormous number for a game that barely reached the 60 point mark.
After Kent Bazemore hit two free throws to tie the game with less than 30 seconds left, Brad Stevens did not call a time out, instead allowing his team to play out the final possession. It worked out well. No one puts a body on Matt Howard, who slides in on the back side and lays in a buzzer-beater for a 60-58 win.
Howard finished with 15 points and eight boards (five offensive), more than holding his own against ODU Frank Hassell.
Shelvin Mack had 15 points and seven assists while Andrew Smith added 11 points and six boards despite leaving the game late in the second half after having his eyebrow split open with a Bazemore elbow.
The play of Smith and Howard is crucial. The Bulldogs will, in all likelihood, advance to face Pitt in the Round of 32, and Pitt plays the same way as Old Dominion, crashing the offensive glass.
For the Monarchs, Hassell had 20 points, but the rest of their starters were 6-24 from the floor.
Rob Dauster is the editor of the college basketball website Ballin' is a Habit. You can find him on twitter @ballinisahabit.