Let's spend most of the morning steering away from opinion and into analysis, shall we? Consider it a few hours spent focusing on design, seeding analysis and some fun with brackets.
Much of my Sunday night was spent listening to people complain about the final at-large berths awarded and how the NCAA seeding committee screwed up. Actually, it was background noise because those teams usually don't play a role in determining the NCAA tournament's champ.
More important is seeding.
Washington often is singled out as the best team with the worst seed – a 7 in the East – but Nate Silver writes in a N.Y. Times story that UNLV – an 8 in the Southwest – actually was unluckiest in how the seeds were handed out. Ohio State was second, followed by Wisconsin and Washington.
He weighs several factors in coming to this conclusion, but it's easiest to see from this table.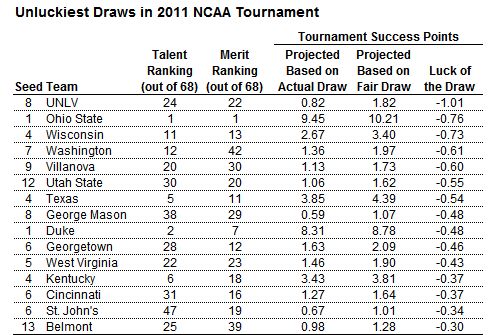 And the luckiest? That would be Florida, San Diego State, Pitt and Kansas. The Gators, a 2 seed in the Southeast, received what Silver calls "one of the luckiest draws in the history of the tournament: a combination of weak opponents, favorable geography and overseeding.
It's a fantastic take on the most crucial aspect of the tournament: who you play.
You also can follow me on Twitter @MikeMillerNBC.