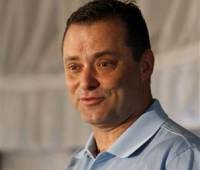 At this rate, there will be 40 college hoops coaching positions open before the Sweet 16.
Arkansas fired John Pelphrey Sunday, while Oklahoma parted ways with Jeff Capel Monday morning. Both had run underachieving teams the past two years. Pelphrey was 69-59 in four seasons, but hadn't finished above .500 in the SEC since 2008. Capel was 96-69 in five seasons at OU, but 17-36 the past two years.
That brings the total of fired coaches from the 2010-11 season to 17, with more surely on the way. (Sidney Lowe is still employed by N.C. State.)
But two of those vacancies might soon be filled.
A report from the Ft. Worth Star-Telegram indicates Texas Tech is close to a deal with former Kentucky and Texas A&M coach Billy Gillispie (the guys at RedRaiderSports say it could be announced as early as Wednesday) and that Arkansas has already met with Minnesota coach Tubby Smith.
Tubby back in the SEC? Now that would be a story.
You also can follow me on Twitter @MikeMillerNBC.