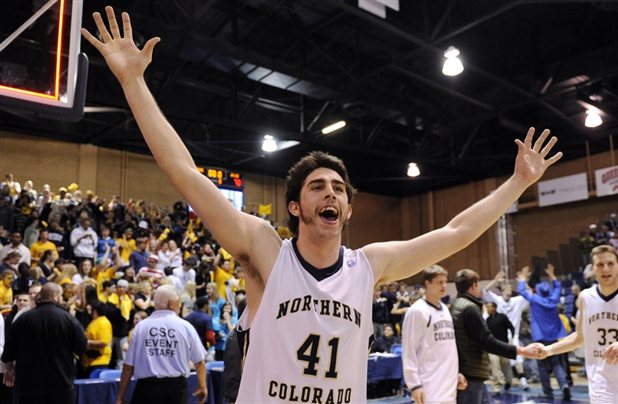 Consider it a lucky 13 (autobids). Long Island and Northern Colorado joined the NCAA tournament party by clinching automatic bids on Wednesday night – in a couple of thrilling games, too.
Northern Colorado clinched its first NCAA tournament bid with a 65-60 win over Montana in the Big Sky title game. If that sounds ordinary, consider that the other UNC has only been postseason-eligible since 2007 after moving up from D-II. A likely 15 seed awaits them.
The hero was senior guard Devon Beitzel, who shrugged off a slow start to score 13 of his 27 points in the final five minutes. It was a fitting end for the league's regular-season player of the year, who's one of the most beloved players in school history.
Fans then carried him off the court on their shoulders.
"It's one of the greatest feelings I've ever felt in my entire life," Beitzel said. "It's unreal."
Long Island –yes, the Long Island made famous by Hall of Fame coach Clair Bee – blew a late lead, missed a chance to win at the end of regulation, then survived two would-be game-winning shots by Robert Morris for an 85-82 win in the Northeast title game.
Added bonus: Robert Morris was the two-time defending champ.
"It's all so surreal right now," said LIU guard Jamal Olasewere, who scored seven of his 31 points in overtime.
The Blackbirds (27-5) are off to their fourth NCAA tournament and first since 1997. Expect a 15 seed.
You also can follow me on Twitter @MikeMillerNBC.