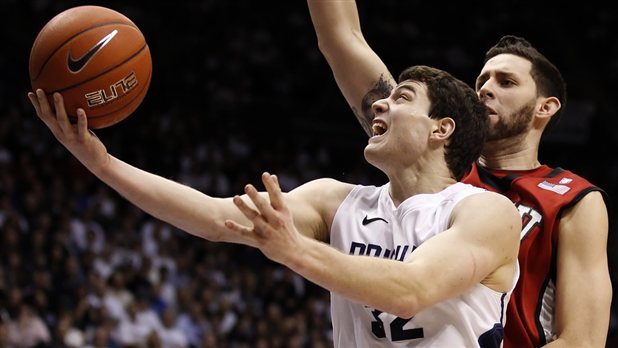 Dates: March 9-12
Location: Thomas and Mack Center, Las Vegas
Championship Game: March 12th, 4 p.m. on Versus
Outlook: There's more than just Jimmer to watch in Vegas. And I'm not talking about the Strip, either. San Diego State could still grab a No. 2 seed in the NCAA tournament, UNLV is trying to bolster its seed, while Colorado State and New Mexico have designs of being the MWC's fourth team to make the Big Dance. Also, there's the strip … but let's talk hoops.
The Cougars (28-3) won the regular-season title, but have dealt with issues since the dismissal of center Brandon Davies. They got blown out by New Mexico, then struggled for a half vs. Wyoming. They're vulnerable, but still have the nation's most dynamic scorer. They'll play the Colorado State-New Mexico winner in the semifinals. A win by the Lobos (20-11) would bolster their slight NCAA hopes. A win by the Rams (19-11) would do the same.
The other semifinal should be an SDSU-UNLV showdown, which could be the best game of the tournament. The Aztecs (29-2) might play their way into a No. 2 NCAA tournament seed, especially if they avoid the Cougars, the only team to beat SDSU this season.
Player to Watch: Jimmer Fredette, BYU
Um, duh.
The nation's leading scorer has been tested because of the Davies' dismissal, which means he'll have to do even more of what he does best: score and make plays. In two games without Davies, he's averaging 35 points and four assists. Also, the last time he was in Vegas, he scored 38. Expect a show.
Champion: UNLV
Amid the BYU-San Diego State excellence, the Rebels (23-7) have quietly been excellent ball. They've won five straight, the offense is finally clicking (making shots helps) and they have a huge advantage by playing at home, where they've either won or reached the tournament title game three times in the last four years.
Yes, both BYU and SDSU both won at UNLV this season. But if St. Peter's taught us anything during the MAAC tournament, it's that good defensive teams are awfully difficult to beat three times in one season. Call it a hunch.
Tournament standings, stats, more.
You also can follow me on Twitter @MikeMillerNBC.