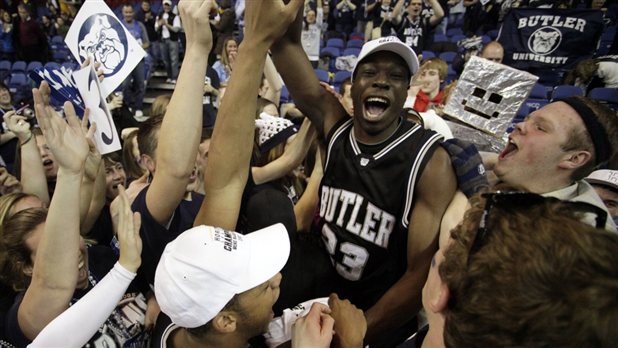 And then there were 11.
Three more team clinched bids to the NCAA tournament Tuesday night. One's a familiar sight, too.
Butler – you remember the Bulldogs, right? – claimed its third Horizon League tournament in the past four years by beating Milwaukee 59-44. Midway through the season, the Bulldogs (23-9) looked doubtful to return to the Big Dance, but closed the season with nine straight wins and a sweep of the conference crowns. Expect an 11 seed for the Bulldogs. (And an unhappy 6 as a result.)
Meanwhile, Oakland (Mich.) continued its dominance of the Summit League by pulling away from Oral Roberts in the title game, 90-76. The Grizzlies (25-9) lost just one conference game this season and return to the NCAAs for the second straight season.
              RELATED: Should Butler and Oakland be potential darkhorses for your bracket?
The third clincher of the night came from the Sun Belt, which also produced the most exciting game of the evening. Arkansas-Little Rock clinched its first NCAA tournament berth in 21 years thanks to a last-second 3-pointer by senior Solomon Bozeman in a 64-63 win over North Texas.
Yeah. You could call that exciting.
"I was just happy I hit the shot," Bozeman said. "Coming in, the word had been on me from my previous four years of college that I hadn't been able to hit big shots and come through in big games, even in my high school career.
"I just didn't want to let this team down. I hit the shot and I was proud. I knew it was over. I knew we were going to the NCAA tournament."
Take a bow, Solomon. That's what this month's all about.
Two more schools join the automatic berth ranks on Wednesday when the Big Sky and the Northeast hold their tournament title games.
You also can follow me on Twitter @MikeMillerNBC.