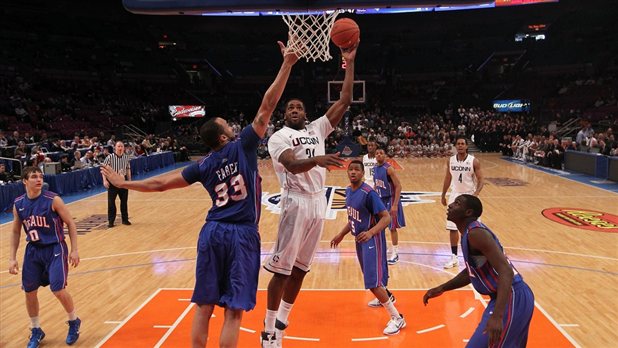 NEW YORK – March 10th, 2005.
Its hard to believe, but that is the last time that UConn had won a game in the Big East Tournament. NBA vets like Charlie Villanueva and Josh Boone were still in uniform them.
Since that game, which was a first round win against Georgetown, UConn has lost six straight. One came in six overtimes, one was the result of running into a Gerry McNamara buzzsaw, and another was the result of a UConn team quitting on the season. So while ninth-seeded UConn ran through 16 seed DePaul on Tuesday afternoon in the opening round of the Big East Tournament, all Jim Calhoun was concerned about was the win.
"You don't say how you won. You say, 'Are we playing tomorrow?'", Calhoun to reporters after the game. "And we're playing tomorrow."
Kemba was terrific this afternoon, finishing with 26 points and five assists, while Jeremy Lamb chipped in with 19 points, 17 of which came in the first half, despite battling a sprained knee he suffered against Notre Dame.
But the best sign for the Huskies was the play Alex Oriakhi.
UConn's second leading scorer had been a non-factor the past three games, averaging just 4.0 ppg and 4.6 rpg in that stretch. A message needed to be sent, so freshman Tyler Olander got the start over Oriakhi.
And Oriakhi responded, finishing with 13 points on 5-9 shooting. More importantly, he finished with 19 rebounds, six on the offensive end of the floor. I think he got the message.
"Hes been struggling," Calhoun said after the game. "As you know, its as simple as go get the basketball. Today, he got the basketball. A lot."
"It doesn't matter who gets the start, it matters who finishes, and Alex certainly did that."
The odds of UConn winning the Big East Tournament are long. Winning five games in five days when you have road blocks like Georgetown and Pitt in front of you if a daunting task.
If the Huskies are going to pull it off, they need this kind of performance out of Oriakhi.