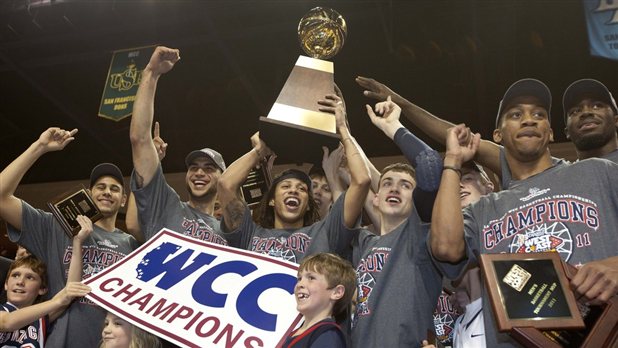 Four more teams punched their tickets to the Big Dance on Monday, giving us eight official teams in the 2011 NCAA tournament.
Already in? Belmont, Morehead State, UNC Asheville and Indiana State.
Monday's winners were:
Gonzaga
The Zags beat West Coast Conference rival St. Mary's for the second time this season, 75-63, and clinched their 13th straight trip to the Big Dance. That's tied for the second-longest active streak with Michigan State and Texas. Kansas hasn't missed since 1989. Expect the Zags (24-9) to get an 8 seed.
Old Dominion
The Monarchs (26-6) are off to the NCAAs for the second-straight year. They beat VCU, 70-65. They'll likely be joined by Colonial Athletic Association rival George Mason in the field of 68. After the loss, the Rams will probably be one of the last teams out. Expect ODU to receive a 7 or 8 seed.
St. Peter's
The surprise of the Metro Atlantic tournament. The Peacocks (20-13) become the conference's first four-seed to win the event, beating Iona, 62-57. It's their first NCAA tournament bid since 1995. They're headed for a 15 seed.
Wofford
The Terriers won the Southern Conference tournament for the second straight season. A 77-67 win over Charleston (the regular-season champ) avenged two earlier losses to the Cougars this season. Wofford – which just missed an upset of 3-seed Wisconsin last year – is likely headed to a 14 or 15 this season.
You also can follow me on Twitter @MikeMillerNBC.