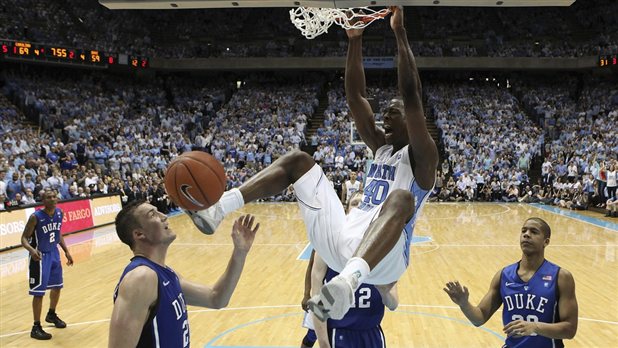 Get ready for the North Carolina onslaught.
The Tar Heels won the weekend's highest profile game, the ACC regular-season crown and the title of "hottest team around." All in time for the rest of the conference tournaments to begin.
As a result, it seems everyone's on the UNC bandwagon right about now, including us. Hey, only Notre Dame's hotter right now.
Now I'm just trying to decide if that's good or bad.
Or if it's just what we should've expected. After all, North Carolina doesn't lack for talent. It was just a matter of putting it together. The players admit as much.
"Possible? Yes," Tyler Zeller told the Raleigh News & Observer. "Chances weren't very high. It was one of those things where we had the talent, we had the ability, but at that time we weren't playing nearly as good defense or offense as we are now."
Coach Roy Williams was a wee bit more confident. And snarky.
"A buddy told me I've gotten a lot smarter the last couple weeks," he told the paper. "I didn't get any smarter, but my team got better. I said in November this was a team that was going to keep growing and getting better."
So what's the Tar Heels' ceiling? I saw a Baylor '10 comparison earlier, which might be appropriate.
The Bears were a few calls/plays away from beating Duke and reaching the Final Four last year. UNC isn't the same type of team – the offense isn't as crisp as the Bears' was last season, but the defense is better, especially when John Henson is playing like Ekpe Udoh – but could easily reach the Final Four depending on the NCAA tournament draw.
The Heels (24-6, 14-2) will have trouble against teams that can match their size inside and force them into taking too many 3s. But unless they make an early exit from the ACC tournament, it's hard to see them running into their biggest problem: no confidence. Right now, this team's eager to stay hot. And sometimes that's enough with a young team.
"After the NIT, I never could have imagined this," Henson said Saturday. "This is my first championship thing, and we just want to keep being hungry.".
You also can follow me on Twitter @MikeMillerNBC.