I can't get enough of this Charlie Sheen fiasco.
Its riveting.
Last summer, I was driving on I-66 in Northern Virginia. At one point, traffic started to get bogged down. I saw flashing lights ahead, so I assumed folks were slowing down because someone had gotten pulled over. I was right, but it was so much better. I was going about 15 mph when I came even with the second cop car. Just then, the two guys in the car that had been pulled over jumped out and started running. Except there was absolutely no where to go. On one side was one of those massive sound walls and on the other side was I-66, the busiest highway in the DC Metro region. Obviously, I came to a full stop and watched as these two overweight suspects were chased by a couple of overweight cops. (The suspects put up a valiant effort to get away. They managed to evade the cops without leaving an area about the size of a living room. Eventually, they got the first guy in cuffs, and after hitting one of the cops with a nasty euro step, the second guy took a vicious clothesline from the cop and was down for the count. Totally worth the five minutes of life it cost me.)
That's exactly what watching Sheen is like.
We are watching someone's life spiral out of control, but its too gripping — and far too hilarious — to turn away.
So I got to thinking — who is the Charlie Sheen of college hoops?
Coach: Frank Martin
They are about the same age. They are both incredibly intimidating. They both are of hispanic descent with names that don't sound remotely hispanic. But what pushes Martin over the top in the Charlie Sheen comparison are the eyes. Martin is notorious for the glare that can burn holes in your shirt through your TV. Sheen? He's not far behind: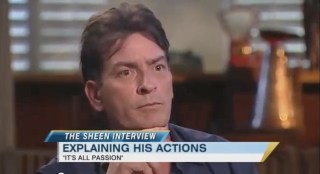 Commentator: Digger Phelps
I couldn't help but notice that Digger's mannerism, speech patterns, and train of thought is remarkably similar to Sheen's. They talk too quickly, neither enunciates their words, and both seem to ramble from point to point without any real connection. But mostly, I'm convinced that neither Digger nor Sheen have any idea what they are talking about.
Player: Renardo Sidney
Isn't this obvious? Sidney has been digging himself a bigger and bigger hole since he first moved to California for his freshman year in high school. Its culminated in a year and a half suspension, a nationally televised fight with a teammate, and the tarnishing of whatever reputation he had left. Sheen? He just had the rest of his season of Two and a Half Men canceled, he went all Chris Brown on a porn star in a coke-fueled rampage, and his reputation is now more Gary Busey than Oscar winner. Isn't Rick "the Wild Thing" Vaughn Renardo Sidney's movie counterpart?
Rob Dauster is the editor of the college basketball website Ballin' is a Habit. You can find him on twitter @ballinisahabit.