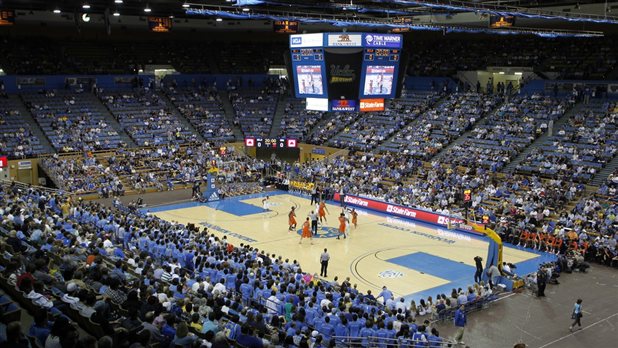 In case you missed it among Saturday's wave of upsets and Jimmer Fredette adulation, UCLA's last game at "old" Pauley Pavilion had a fitting send off.
John Wooden's great-grandson Tyler Trapani, a junior walk-on who's played a total of four minutes this season, scored the final basket of the 71-49 win over Arizona. Wooden, who died last spring, was there when Pauley first opened back in 1965.
It's only proper that his great-grandson capped things off before a renovation makes the arena all flashy and news starting in the fall of 2012.
"I got some tears in my eyes," UCLA coach Ben Howland said about Trapini's basket. "I was thinking about Coach (Wooden). It was so fitting Tyler hit the shot. It fell right in his hands. There's something going on there, I really believe it."
(For now, the Bruins will spend the 2011-12 season as nomads.)
So what about a photo tribute to the joint? The guys at Bruins Nation compiled a pretty sweet series of photos from Saturday's win. Click here to see.
You also can follow me on Twitter @MikeMillerNBC.