On a day when Duke and Texas both stumbled, BYU won. That's enough to re-evaluate the perception of the Cougars. But that it came on the road at a top 10 team? That erases all doubt.
Take a bow, BYU. And while you're at it? Make plans to play out West in the NCAA tournament.
Maybe even as a 1 seed.
Jimmer Fredette was good, his supporting cast was even better and the Cougars (27-2 overall, 13-1 in MWC) sent a massive statement with their 80-67 win at No. 6 San Diego State. They'll almost certainly win their final two regular-season games (both at home) and be a good bet to reach the conference tournament title game. That happens, it'll be tough to deny them a top seed in the Big Dance.
Still not convinced? BYU has six wins vs. the RPI Top 25. Most teams – even in the mighty Big East – don't even play six games vs. the RPI Top 25.
Meanwhile, Duke (a 64-60 loser to Virginia Tech) became the latest No. 1 team to lose after ascending to the top spot in the same week. That simply reinforces the notion that it was foolish to elevate the Devils (26-3, 12-2) to No. 1 simply because the four teams ahead of them lost. Now, Duke has to beat Clemson and at North Carolina next week simply to win the ACC.
A 1 seed might still be possible, but Duke lost what little control it had by losing to the Hokies. (On that note, there's a party in Blacksburg. Read on for more.)
As for Texas, it'll likely share the Big 12 crown with Kansas, but its five losses on the season will cripple its chances for a 1 seed unless Pitt, Kansas and Duke all take serious stumbles in the next two weeks. The Longhorns (24-5, 12-2) aren't playing the ferocious defense they flashed most of January and February, so maybe it's a good thing to get slotted at a 2. The expectations won't be quite as high.
That said, Sunday's a full slate of games. Ohio State, Pitt, Purdue and North Carolina all play. If the upsets continue, expect more NCAA tournament shuffling.
Aztecs in search of an offense
No. 6 San Diego State lost for the second time this season to MWC rival BYU, 80-67. The Cougars were unconscious from beyond the arc, but that's not what should worry SDSU. When D.J. Gay and Malcolm Thomas – their second- and third-leading scorers – combine to shoot 5 of 17, that's an issue. And when your frontline grabs nearly 40 percent of your missed shots and still gets dominated up front, that's an issue. SDSU's one of the nation's 10 best teams, but its offense doesn't allow it much room for error.
Bubble winners, losers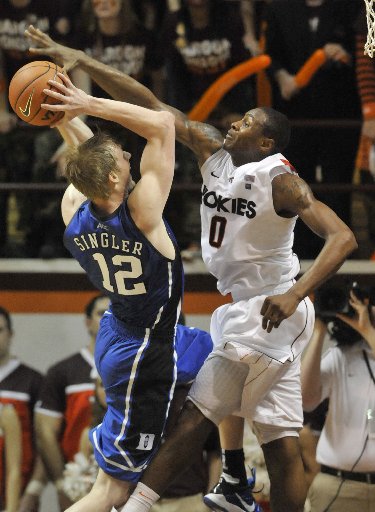 Virginia Tech and Colorado got big wins. Alabama and Minnesota? Not so much. Get a complete breakdown of Saturday's biggest winners and losers here.
These 'Cats have nine lives
A month ago, people wondered if Jacob Pullen would live up to his statement that he wouldn't play in the NIT. And now? Doesn't look he'll have to. Kansas State's won four straight and six of its last seven games after Saturday's 80-70 win over No. 20 Missouri. Next up? The biggest test of all. A trip to Texas on Monday.
And these 'Cats are using up theirs
No. 15 Villanova (21-8, 9-7) is stumbling toward the NCAA tournament for the second straight year. An 81-68 home loss to St. John's was the Wildcats' second straight, and fourth in its last six. With looming games against Notre Dame and Pitt, they may not finish above .500 in Big East play.
Something's Bruin out West
UCLA's on a roll. It's won 12 of its last 14 games, the latest a resounding 71-49 win over Arizona. That places the Bruins in a tie atop the Pac-10 with two games remaining to play. Those two games are hardly gimmes, though. A trip to the Emerald State isn't the easiest task, but UCLA ended Saturday with a promising sign: John Wooden's great-grandson Tyler scored vs. the Wildcats. That's gotta be good, right?
Could the CAA get multiple bids?
George Mason's riding the nation's longest win streak (15) and is in prime position to grab an at-large berth no matter what happens in the Colonial Athletic Conference tournament. That leaves the door open for ODU (winners of four straight after beating William & Mary), Hofstra and VCU. One of those three would have to win the tourney, though.
Party in the Valley
Missouri State won its first Missouri Valley regular-season title by beating Wichita State, 69-64. Adam Leonard's last-minute 3-pointer ensured the Bears wouldn't regret losing their 11-poiont halftime lead. They're still not an NCAA tournament lock – Arch Madness awaits – but it's a great day in Springfield. "It's the best feeling in the world; better than I ever dreamed," center Will Creekmore told the news-Leader.
Champs! (again)
Gonzaga crushed San Diego, earning a share of its 11th straight WCC crown. It's a remarkable feat, both for its longevity and how the Zags overcame long odds to win this season. (In an odd coincidence, it was a St. Mary's loss to San Diego that opened the door for the Bulldogs.) Meanwhile, Utah State (26-3, 13-1) won its fourth straight WAC crown by beating Idaho. The Aggies' 26th win puts them in good shape for an at-large bid to the NCAA tournament, no matter what happens in the WAC tourney. Only a handful team of team have been left out of the Big Dance after compiling 26 wins.
Butler does it (again)
Coach Brad Stevens wasn't around to watch it, but the Bulldogs (21-9, 13-5) beat Loyola of Chicago to clinch a share of its fifth straight Horizon League title – and a double-bye in next week's league tournament. They've won seven straight and need just two more wins to return to the NCAA tournament. Top seeds, you've been warned. Milwaukee claimed the tourney's top spot.
You also can follow me on Twitter @MikeMillerNBC.