Just how good is Jimmer Fredette? Good enough to lead BYU to a national title?
If so, he'd be defying the odds in a big way.
That comes from none other than our own David Hess, who in breaking down the showdown between No. 6 San Diego State and No. 7 BYU, found himself asking this basic question:
Can a BYU team so reliant on one prolific shooting guard really be as good, in the long run, as a balanced, interior-minded squad such as San Diego State?
In weighing a team's scoring balance and their productivity from the guard and frontcourt positions, he found that most of the champions from the last 10 years tended to have more far more frontcourt production and overall balance than BYU has this season. (That's the grossly oversimplified version; Dave's analysis is far more detailed, I assure you.)
It can all be summed up in this table below, in which the champions are represented by purple dots, while the orange dots are the various contenders from this season. While Fredette may lead the nation in scoring and seemingly can't miss a shot, even he's not good enough to win it all by himself.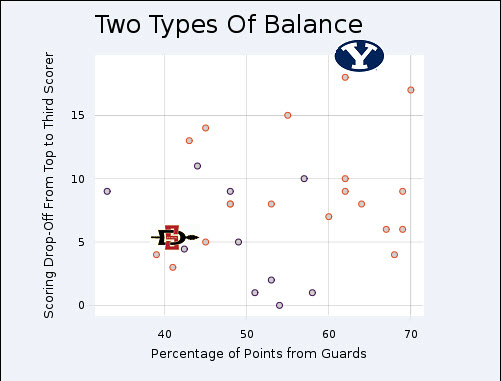 However, that doesn't mean San Diego State is a lock. From his story:
Does this mean you should jump on the SDSU title bandwagon? (Is there such a thing?) No, of course it doesn't. For one thing, there are other 2011 teams in the same vicinity (Syracuse and Pittsburgh, for example). And 10 data points doesn't come close to being a large enough data set to draw any real conclusions from.
My advice? When the brackets are announced in a few short weeks, pay attention to those matchups more than ever. And don't shy away from teams that get a lot of frontcourt production.
You also can follow me on Twitter @MikeMillerNBC.