Duke's back atop the polls. It's nearing yet another ACC title. In a few weeks, it could claim its 12th No. 1 seed in the NCAA tournament.
And a second straight NCAA championship? That's possible.
Yet, I can't shake the feeling that this will go down as the great "What if?" season for the Devils. What if Kyrie Irving never got hurt? Would we be talking about the Devils as the one dominant team in a season filled with several really good ones?
Would they have gone down as one of the greatest ever?
That's the ultimate "What if?" isn't it? Duke was 7-0 when Irving, the electric point guard who was leading all freshmen in scoring, injured his toe on Dec. 4. We'd caught just enough of him to realize he was something special and that Duke, with him running the show, could be even better than a team that won 35 games and a national title. That's no small thing.
Irving hasn't played since. He's op(toe)mistic about a return, but the longer  he's out, the more unlikely it seems. And the greater we imagine Duke would've been.
Duke can win it all without Irving. It's done just fine in the since, going 17-2 in that span and playing some impressive offense and defense in the process. That's what happens when you have guys like Nolan Smith, Kyle Singler and Seth Curry on the roster. One guy doesn't make or break your season.
In fact, the Devils have done just fine without Irving. They've had typical peaks and valleys and even hit a few highs it didn't when Irving was around. From StatSheet: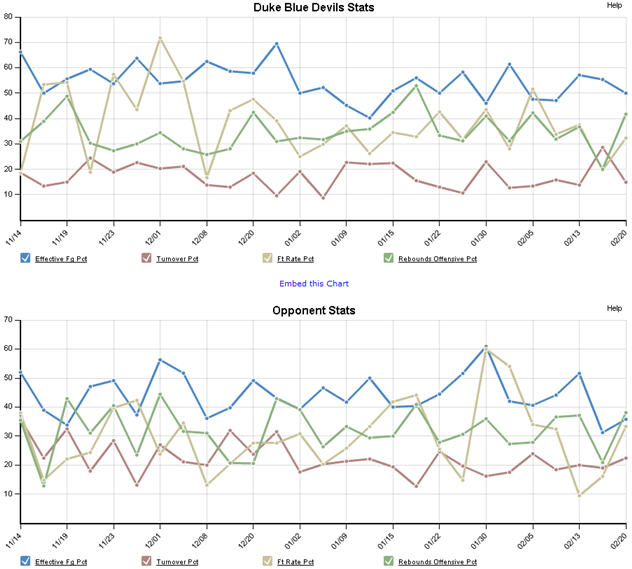 But I'm not talking as much about the on-court results as I'm talking about perception.
Unless Duke somehow finished the season unbeaten, people were always going to think less of them without Irving. It could win the NCAA title in dominating fashion and onlookers would simply say, "Man, Think how easy it would've been with Irving in the lineup."
Fair? No. They could've just as easily stumbled along the way and not lived up to what would've been massive expectations. But we got our taste.  Our memories will inflate the rest.
It's about perceived greatness. It's about being '96 Kentucky or '68 UCLA or '74 N.C. State or the handful of other teams who get mentioned as the greatest of all time. Duke could've had that this season with Irving. (Just think of the "what if?" title game against a Purdue with Robbie Hummel.)
Settling for back-to-back titles might have to suffice.
You also can follow me on Twitter @MikeMillerNBC.