There's a new No. 1 in college hoops, but there's hardly a consensus. Not that it's a bad thing.
In fact, I'm downright giddy about it.
Duke took the top spot in the both the AP and coaches' poll this week, but the rest of the top six was jumbled. Kansas, Ohio State, Pitt, Texas and san Diego State made up those spots in two different orders in the polls – well, Texas was fifth in both – while BYU, Purdue, Notre Dame and Arizona rounded out the top 10.
So what's happy about that? Check out the vote totals in the top 10. You'll rarely see teams clumped this closely together. (Complete polls are here.)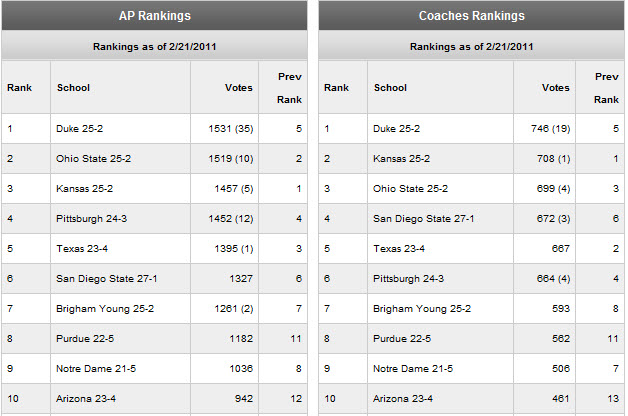 Five points separate Kansas and Pitt in the AP,  while there' only eight points separating SDSU, Texas and Pitt in the coaches' poll.
Perhaps that means the top four teams everyone anointed as true Final Four contenders the last month – Ohio State, Texas, Pitt and Kansas – now aren't so different from Duke and San Diego State. Or BYU. Purdue. Maybe teams like Notre Dame, Kentucky, Wisconsin and North Carolina aren't far behind.
That not a completely random idea, either. Smarter people than me were onto it weeks ago.
Want more? I'm also on Twitter @MikeMillerNBC.