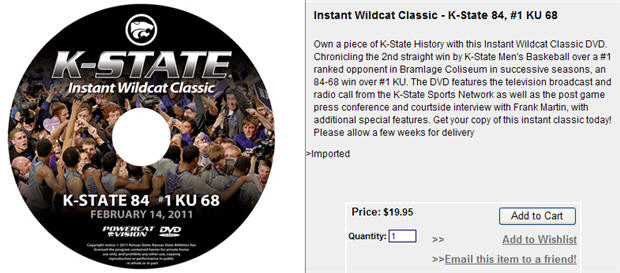 Kansas State fans wishing to relive Monday's 84-68 win over Kansas are in luck. For the low price of just $19.99 (plus $4.95 for shipping and handling), you can.
The school's athletic department is offering a commemorative DVD of the upset, which includes the TV broadcast and the radio call, post-game press conferences, a courtside interview with coach Frank Martin and other special features.
That's a far better deal than buying the net used during the game – bidding price is now over $200. Sure, the net's a unique item, but can it show you how good Jacob Pullen was or how many dumb plays the Morris Twins made.
It's been a rough season for the Wildcats. They're still on the wrong side of the NCAA tournament bubble and if a Powercat is looking for a happy memory from the 2010-11 season, this might be it.
Hey, if nothing else, stash it away for Christmas. It'll be one less thing to do in December.
(Thanks to The Dagger).
Want more? I'm also on Twitter @MikeMillerNBC.