Forget about Valentine's Day? Need to give that college hoops fan in your life something extra special to make up for it?
Try a national championship ring.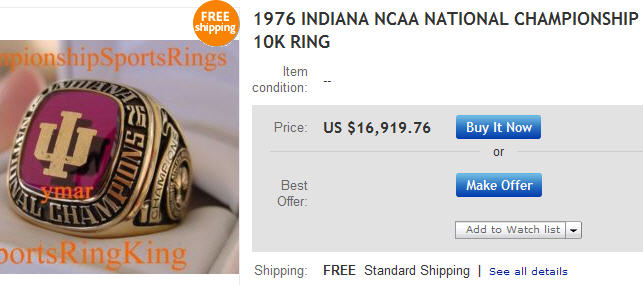 For just under $17,000, you can own a piece of the last unbeaten team in college basketball history by buying this 1976 Indiana ring. It's a size 12 ½, weighs 25.7 grams and is 10 carat gold.
As an added bonus, it comes with free shipping! Woot!
The seller says it belonged to a player on the team and offers a 200 percent money-back guarantee if proved otherwise. Of course, the seller also says the ring is 200 percent real, so there's that. (It's probably the same ring that was on sale back in 2006 given that the selling pitch is awfully similar.)
 If you're not a Hoosier fan, but still want some college hoops bling, not to worry. The same vendor also offers a 1993 North Carolina championship player ring. You'll have to shell out $16K for that one.
Or you could save thousands of dollars and do something meaningful for that special someone, like make them dinner or write them a poem.
Hmm. Maybe you better buy the ring.
Want more? I'm also on Twitter @MikeMillerNBC.