Coming off of the high that was Wednesday night in college hoop, there was no doubt going to be a bit of a let down for Thursday's slate. That said, the game that folks were most excited about watching was between SEC leading Alabama and No. 24 Vanderbilt.
And it lived up to expectations, with Vandy taking home a hard-fought 81-77 win.
Vandy jumped out to an early lead on the Crimson Tide, but 'Bama kept fighting. Down the stretch in the second half, the two teams traded blows. JaMychal Green hit his first three of the season with just 2:13 left on the clock, and the Tide tied the game at 71. After the next five possessions ended in foul shots, giving Vandy a 76-75 lead, freshman Trevor Releford went coast-to-coast for a tough left-handed layup that put Alabama back in front. At the other end, Brad Tinsely hit a jumper with 13.5 seconds left and was fouled, putting the Commodores back up by two.
That's when things got controversial:
[youtube=http://www.youtube.com/v/A1NKPfT6]
As you can clearly tell by Anthony Grant's reaction, he thought that Green was fouled on the drive.
But the call the that had twitter abuzz last night was that Green appears not to have stepped out of bounds: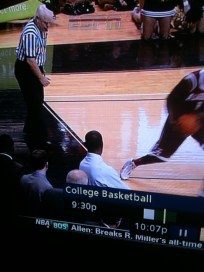 Now, take that with a grain of salt.
Green still missed the layup, and the angle of the camera makes it impossible to tell either way whether Green actually stepped out or not. (Personally, I don't think he did.)
Blown call or not, the bottom line is that Alabama really needed this win. As I wrote over the weekend, Alabama cannot afford to lose many more games. They have four terrible losses on the season — Iowa, Seton Hall, Providence, and St. Peter's — and with just two notable wins — Kentucky at home, Tennessee on the road — the Crimson Tide cannot afford missed opportunities.
Not when they have a limited number of chances for quality wins.
The Tide have seven games left on the season. Two — at Florida, Georgia — are of significance. They probably need to get to 12 or 13 wins in the SEC if they are going dancing.
Even then, it seems difficult. Their RPI right now?
Right around 100.
That's not going to get it done.