If you're curious about the nation's top freshmen, but consider yourself a visual learner, you're in luck. Luke Winn broke out the graphs.
The Sports Illustrated writer (his power rankings should be out about now) analyzed some of the nation's top freshmen by how their roles and scoring efficiency changed during the season. If that sounds boring, it's not.
Put it this way: How has Harrison Barnes' performance progressed through the season? He's much better now than he was earlier in the season, but by how much? Well, Winn has the answer.
Look at the graph below. Barnes now scores roughly 21 percent of North Carolina's points compared to just 13 percent back at the start. But if you've been watching Ohio State's Jared Sullinger, it also shows how much better he's been than Barnes (Baylor's Perry Jones? Whew.)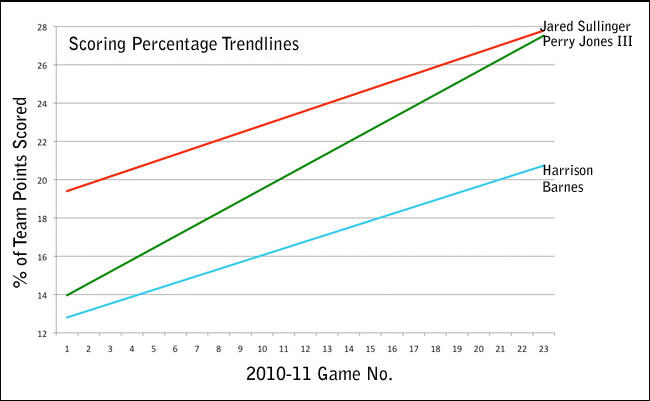 But that's not the only graph Winn has, nor is Barnes the only freshman he focuses on. To see the rest – including how guys like Michael Beasley, John Wall and Blake Griffin fared during their season – click here.
Ah. I feel smarter already.
Want more? I'm also on Twitter @MikeMillerNBC.