No. 2 Kansas 103, No. 20 Missouri 86: See here.
No. 4 Pitt 71, West Virginia 66: See here.
One last note about this game — this is not a typical Bobby Huggins basketball team. From Huggy Bear's old Cincinnati teams to the West Virginia squad that made the Final Four last season, toughness was a main ingredient. Not so with this team. Kevin Jones gets pushed around inside. John Flowers cannot stay out of foul trouble. Deniz Kilicli played his best offensive game of the season last night, but his inability to defend or keep his man off the offensive glass cost West Virginia as many points as he scored (19), if not more. Cam Thoroughman is a blue collar player, but he can do little more than foul when he's forced to matchup with the Big East's best big men.
That lack of toughness inside is what cost the 'Eers last night, as they gave up 42 points in the paint and 18 offensive rebounds.
Butler 72, Illinois-Chicago 65: Shelvin Mack scored 17 points for the Bulldogs, who remain two games behind Valpo in the loss column in the Horizon League standings. But none of that is what folks will be talking about after last night's win. If you haven't yet seen the pictures of Matt Howard from last night, well, I'd recommend you stop reading RIGHT NOW if you are at all squeamish.
Butler's 6'8″ senior forward caught an inadvertent elbow from Paul Carter as he tried to set a back screen on the last play of the first half, and it opened up a nasty cut on Howard's head. Again, if you don't do well at the sight of blood, you might want to keep it moving:
[youtube=http://www.youtube.com/watch?v=cPUXQ6z_IFI]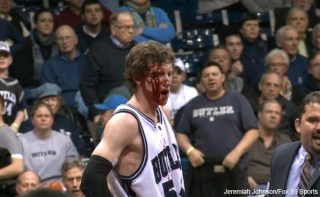 That's about as bad of a cut as I have ever seen in a college basketball game. The elbow that Gerald Henderson planted across the bridge of Tyler Hansbrough's nose doesn't even compare.
"He's obviously got a big knot up there and he's got stitches and everything else," Butler head coach Brad Stevens told reporters after the game. "[The training staff] hasn't said anything but that they are going to keep monitoring it throughout the week. It's not determined that he's out on Thursday or anything like that."
More importantly, Butler's win kept them within a game of second place in the Horizon. The top two teams in the Horizon League standings get a double-bye into the semifinals of the conference tournament.
Detroit 81, Cleveland State 78: The Viking's chance of getting an at-large bid may have gone out the window with their second straight loss. Detroit, on the other hand, looks like a team to be wary of in the Horizon League tournament as they have won three in a row to get back into the mix for the second double-bye.
Delaware State 91, Norfolk State 83: The most impressive offensive performance from last night wasn't out in Lawrence, KS. It happened in Dover, DE, where the Delware State Hornets, the nation's third slowest basketball team, hit 13-24 three pointers en route to a 91 point explosion. The Hornets only had 62 possessions last night, meaning that they had the exact same efficieny — 1.47 PPP — as Kansas. The difference? After last night, Kansas is the third most efficient offensive team in the country. Delaware State? 173rd, and that is including last night. Casey Walker had 24 points to lead the way for the Hornets.
Rob Dauster is the editor of the college basketball website Ballin' is a Habit. You can find him on twitter @ballinisahabit.