I usually don't advise this, but regular readers of this blog can probably skip this post. It's not intended for fellow hoopheads.
It's for the roughly 150 million people who fill out an NCAA tournament bracket but rarely watch college basketball until the first Duke-North Carolina game. You know, after you turn off the Super Bowl?
Well, take notes. Here are the crucial storylines from the 2010-11 season. (If you're looking for the best players, try Rob Dauster's post here.)
Kyrie's toe
It's not some Emo band, but the injured appendage of Duke's freshman point guard, Kyrie Irving. This is now roughly the 246,763th item written on Irving's toe in the last three months, making it the most-talked about thing this season.
Irving hasn't played since hurting a ligament in the toe against Butler on Dec. 4 when he was averaging a team-high 17.1 points and 5.1 assists a game. Without Irving, the reigning champs are still a Final Four contender – they're 13-2 since the injury, 21-2 overall – but aren't nearly as dangerous in transition and haven't gotten consistent production from their post players.
Irving no longer has a cast on his right foot and will start rehab soon, but Duke coach Mike Krzyzewski maintains the point guard is "a long way from playing." And if he does return, it's doubtful he'll be nearly as effective as he was in December.
This isn't football, it just looks like atop the polls
Ohio State's unanimous at No. 1, while Texas has streaked to No. 3. Throw in Notre Dame (No. 8), Wisconsin (No. 13), Florida (No. 17) and Texas A&M (No. 22) and you'd be forgiven for wondering why it's not still fall. (Especially with all that snow on the ground.) But it's no fluke, especially when it comes to the Buckeyes because …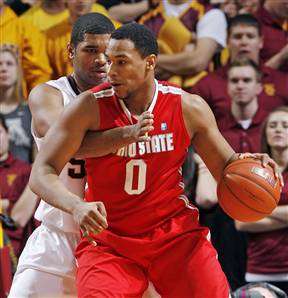 We're going streaking!
The Buckeyes are 24-0 and the lone unbeaten men's team left in D-I. It's the longest anyone opened a season without a loss since Memphis started 26-0 in 2008, which means it probably could've been the No. 1 item on this list. (I finished Kyrie first. Sue me.)
Name a trait you want in a team and Ohio State has it. Talent? Check. Experience? Check. Depth, balance, versatility, shooting, defense, rebounding? Yep, it all there. The centerpiece is freshman center Jared Sullinger, who's doing his best Kevin Love (circa 2008) impersonation, but has plenty of talent around him in Jon Diebler (sharpshooter), William Buford (dynamite scorer), Aaron Craft (underrated point guard), Dallas Lauderdale (rebounding machine) and David Lighty, a guy who does a little bit of everything and does everything well.
And Saturday looms as Ohio State's Rubicon. If the Buckeyes win at Wisconsin – the Badgers win 94 percent of their home games – they'll have cleared a massive hurdle to an unbeaten season. That happens, there's no going back to talking about anything else.
OK, who can win besides Ohio State and Duke?
The shortlist includes Kansas (22-1), Pitt (21-2) and Texas (20-3) a team that's perhaps playing better than anyone else thanks to its ferocious defense and the divine scoring ability of Jordan Hamilton. Those are the elite.
The next tier includes the likes of Kentucky, Villanova, Purdue, Wisconsin and Syracuse, though I'm rooting for one of the Mountain West's two dynamite teams – BYU and San Diego State – to make a March run.
These guys? Not so much
Michigan State is floundering. Same with Gonzaga, Kansas State, Baylor, Memphis and Butler, all of whom began the season in the AP Top 25. None of 'em can even sniff the rankings now. The usual factors are involved (inexperience, injuries), but mostly it's just poor play.
The Spartans – ranked No. 2 behind Duke to start the year – are the best example. They've played the nation's toughest schedule and simply aren't up to their competition. At this point, the NIT seems likely for a team that reached the last two Final Fours.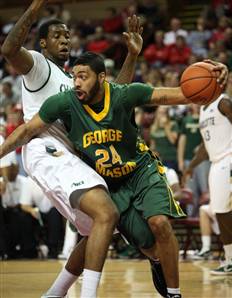 Who's this year's Butler?
It's not the Bulldogs, who probably need to win the Horizon League tournament to return to the Big Dance. But if you're looking for a mid-major to make noise during March (BYU and SDSU excepted), try the team that charmed America before Butler – George Mason.
The Patriots have won nine straight and are a lot like that 2006 Final Four team. They're a but undersized, but tough on defense and sneaky good on offense.
Also worth a second look in your bracket: Utah State, Duquesne, St. Mary's and Belmont. Coastal Carolina's won 20 in a row, but just making the tournament is gonna be enough for Cliff Ellis' group.
Big East is a beast (again)
It's not like it was in 2009 when the conference landed three No. 1 seeds in the NCAA tournament, but it's still nasty – and looks even better given the issues some of the would-be contenders in the Big Ten and Big 12 have had. Pitt's the league's best team, but 'Nova, Notre Dame, Louisville, Syracuse, Georgetown, UConn and West Virginia are all contenders.
Then there's St. John's, which is tied with Marquette and Cincinnati for ninth. A week ago, it beat Duke by 16. Good luck emerging unscathed in that league.
Jimmer or Kemba?
Kemba Walker's turned UConn into one of the season's surprise teams thanks to his scoring efforts and late-game heroics. Jimmer Fredette is the one-man scoring show out west, helping BYU to a Top 10 ranking with shots that defy conventional shooting range. Jimmer leads the nation in scoring, while Kemba's sixth.
Who's better is largely a matter of taste right now, but it seems as if Jimmer's about to pass Kemba in the eyes of hoops observers. Mostly, it's been a blast to watch these two play.
There hasn't been a really fun Player of the Year debate since J.J. Redick and Adam Morrison in 2006, who also happened to be two guys who could fill it up.
So who wins? That might depend on Jared Sullinger.
Want more? I'm also on Twitter @MikeMillerNBC.