Once this season's over, Rick Stansbury should probably take a nice, long vacation.
It might even last into next season.
Mississippi State's coach has dealt with one team drama after another this season, usually involving prized recruit Renardo Sidney. The Bulldogs (11-10 overall, 3-4 in SEC) started slow, saw Sidney get into a fight with then-teammate Elgin Bailey back in December, then watched as Sidney played this season as if he'd already signed a massive NBA contract.
The rest of the Bulldogs apparently noticed. After Wednesday's 75-61 loss to Alabama, starting point guard Ravern Johnson tweeted his displeasure with Sidney and the situation in general. His Twitter account has since been deleted, but Sports By Brooks has a screen grab of the tweets.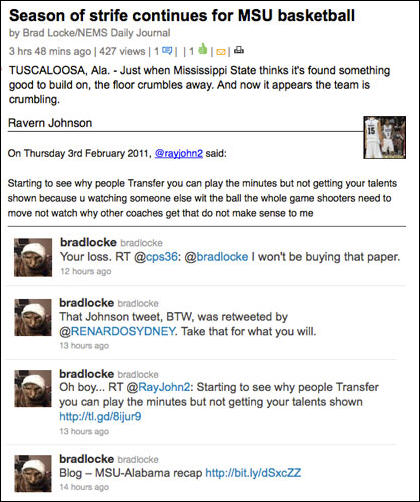 Stansbury's response? To ban them from Twitter.  (Probably should've done this as well.)
To call it a trying season in Starkville would be an understatement. It may just be one from which Stansbury doesn't return, whether it's from burnout or a displeased athletic director.
Not that I feel sorry for Stansbury. He made this mess.
Want more? I'm also on Twitter @MikeMillerNBC.