Here's an endless debate topic: Does playing in a tough conference (read: the Big East) better prepare a team for the rigors of the NCAA tournament?
Seems like something better suited to discuss over beers, but Martin Manley at Upon Further Review wasn't so inclined. He needs to know an answer. So he crunched the numbers, but first set a few parameters. They are: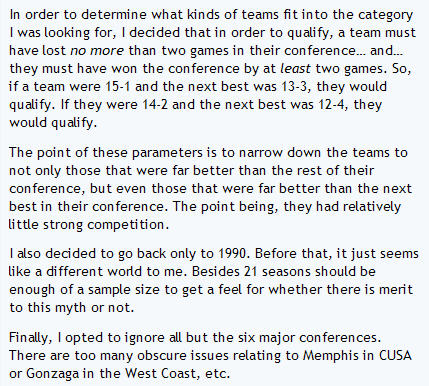 OK? Everybody got that? He's not talking about teams that win a conference crown by slim margins. He's talking about teams that dominate vs. supposedly inferior competition. (Kansas and Kentucky fans hear this a lot.) And his findings were more than a little interesting.
The Big 12 underperformed. Same with the Pac-10. The ACC overperformed. Same with the Big Ten and the SEC (the SEC by a huge margin). The Big East was about right.
Bottom line: Playing in a "tough" conference doesn't matter. Not when it comes to a single-elimination tournament. The evidence, according to Martin, isn't there.
A caveat: Martin notes that the same size of games probably isn't significant enough to draw conclusions based on conference-by-conference results. (Though I'm sure people will take note.)
Now, if you'll excuse me, I'm going to send this to Rick Barnes and Thad Matta. Who says their teams need to have a few hiccups?
Want more? I'm also on Twitter @MikeMillerNBC.