Do you have any idea what's going on in the Big East?
If you do, please. Clue me in. Because I am totally lost.
The latest happening came on Sunday afternoon when St. John's handed visiting Duke their worst loss to an unranked opponent in the last 15 years. That 93-78 win by the Johnnies came just four days after Georgetown avenged a loss earlier this season by whipping the Red Storm 77-52 in the Verizon Center. And yes, St. John's performance was as ugly as the final score.
Georgetown is just as confusing as St. John's. The Hoyas lost four of their first five games in Big East play and were all but written off by the majority of the basketball watching world. Well, just three days after blowing out the Johnnies, Georgetown went into Philly and knocked off Villanova 69-66.
And yes, that's the same Villanova team that had manhandled Syracuse in the Carrier Dome last Saturday.
Although to be fair, based on the Orange's recent performances — losing four straight after starting the season 17-0 — that win by Villanova may have been more a sign of the impending Syracuse collapse than Villanova's greatness.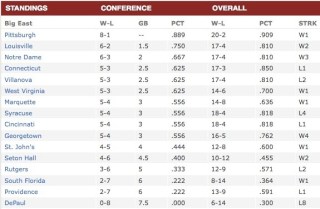 Notre Dame went into Pitt and beat the Panthers despite having lost their first four road games of the season by an average of 16.5 ppg. That Pitt team is probably considered the best team in the Big East, but after losing to Notre Dame, the Panthers nearly lost a second straight game to Rutgers. Louisville has lost to both Providence and Drexel, but they have now won back-to-back games against West Virginia and at UConn. West Virginia has somehow managed to make it to 5-3 in the league despite losing their entire freshman class, having Danny Jennings get booted off the team and Casey Mitchell get suspended twice, and currently playing with just eight scholarship players. UConn has been surviving this year based on the tremendous and clutch play of Kemba Walker.
In fact, eight of the 11 teams in contention for a tournament bid out of the Big East lost this week — Pitt, UConn, Syracuse, Marquette, Villanova, St. John's, West Virginia, and Cincinnati. Of the teams that didn't lose this week — Notre Dame, Louisville, and Georgetown — none has a winning streak longer and four games.
Well, nothing we don't already know.
There are no great teams in the Big East this season. In fact, outside of possibly Ohio State, there really are no great teams in college basketball this season. But what is going to make the Big East so much fun to watch this season — and what is going to make the Big East Tournament the place-to-be come conference tournament time — is the balance throughout the league, especially at the top.
Think about it like this — there were five games this week between the top seven teams in the conference. Four of those games — Notre Dame at Pitt, UConn at Marquette, Georgetown at Villanova, Louisville at UConn — were won by the road team. Marquette was the only team to defend their home court, doing it against reeling Syracuse.
And none of that mentions Providence knocking off back-to-back ranked opponents or Seton Hall going into the Carrier Dome and leaving with a 22 point win. This week is just as crazy. Louisville visits Georgetown, Syracuse makes the trip to UConn, and West Virginia and Marquette travel to Villanova.
That's just life in the Big East for you.
Its balanced, its tough, and if you don't show up for a game, you'll take the loss. (Unless, of course, you are playing DePaul.)
Rob Dauster is the editor of the college basketball website Ballin' is a Habit. You can find him on twitter @ballinisahabit.