Lost among the many, many Saturday upsets? Poor Centenary dropped to 0-23 on the season with a 100-70 loss to Oakland (Mich.). It also happened to be their 28th defeat in a row.
The Gentlemen's woes were already covered in this space last week. I figure the only reason to bring light to their sad season again is for this: A Kyle Whelliston special.
The man behind The Mid Majority paid tribute to Centenary on Thursday, writing about their past difficulties, or when Robert Parrish played for the Gentlemen and managed to go 87-21 during those four years. He also offered an excerpt from his 2006 story.
But the notable part is one of the last segments, which expresses his respect and regret for the program. It's the kind of writing at which he excels. Can't say I disagree with any of this.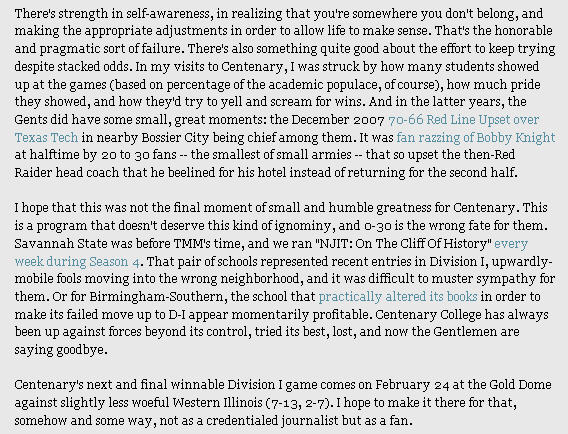 Want more? I'm also on Twitter @MikeMillerNBC