The national player of the year race looked like this before Tuesday's games.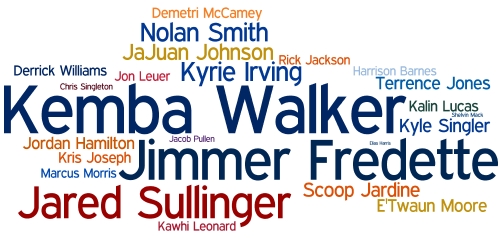 Kemba Walker, Jimmer Fredette and Jared Sullinger. They're the three everyone's talking about. Right on cue, the latest AnnArbor.com poll of writers who vote for the award showed the same: Kemba, Fredette and Sullinger.
Ballots to AnnArbor.com were due before Tuesday's games.
In those games, Walker helped No. 5 UConn win at Marquette, while Purdue ridiculous amount of double-teams on Jared Sullinger ensured No. 1 Ohio State rolled past Purdue. Meanwhile, Fredette plays tonight against San Diego State, which means it's probably a good thing the ballots were due yesterday.
Fredette made a huge jump on Walker from the first AnnArbor poll to this one, grabbing five more No. 1 votes and the most second-place votes. His total? From 56 to 96, just 34 overall points behind Walker, who also stayed about the same, as did Sullinger. The rest of the guys — Nolan Smith, JaJaun Johnson, Kyle Singler, etc. — are way, way back.
It's a three-man race. Gonna be that way for a while.
Want more? I'm also on Twitter @MikeMillerNBC.