No. 25 Minnesota 70, No. 8 Purdue 67: See here.
One last note on Purdue — this loss could have been much worse. The Boilermakers dominated a very good Minnesota front line and nearly beat a top 25 team on the road despite getting a 2-14 performance out of E'Twaun Moore. A night like that won't happen too often for Moore.
UNC-Greensboro 75, Appalachian State 74: See here.
Stanford 58, No. 18 Washington 56: There was a wild ending to this one. Josh Owens, who had 14 points and 15 boards, tipped-in the go ahead basket with just 29 seconds left in the game for Stanford. At the other end, Justin Holiday drew a foul with 2.5 seconds left on the clock, but he missed the first free throw. After intentionally missing the second, Dwight Powell of Stanford was called for a travel, but on the ensuing inbounds Holiday missed a potential game-tying jumper.
Isaiah Thomas had 14 points and seven assists for the Huskies, but they only managed 56 points, committed 14 turnovers, and shot just 36.2% from three.
Oregon 68, USC 62: My review of Matt Court would not be pretty. There's a brutal glare from the ring ads, and watching in HD requires sunglasses to avoid getting a migraine: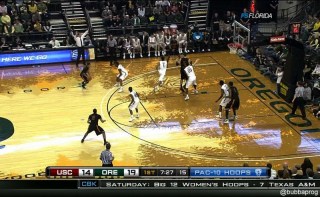 That said, Oregon did knock off a USC team many believed to be competing for that second spot behind Washington. So maybe the court did what it a was supposed to.
Mississippi State 69, Ole Miss 64: Maybe this will clear up why Rick Stansbury sold his soul to get Renardo Sidney and Dee Bost back into the lineup — 24 points and five boards on 9-12 shooting for Sidney, and 25 points, eight assists, six boards, and three steals for Bost. They had all but 20 points and all but six field goals for the Bulldogs.
UNC 64, Virginia Tech 61: Malcolm Delaney had 28 points and five assists, but on the final possession for the Hokies down just one, he was held to a tough, step-back jumper by Kendall Marshall, who also finished with nine points, nine assists, and zero turnovers. Move over Larry Drew. For the Hokies, the loss shouldn't surprise anyone. Tough game, close down the stretch, Hokies choke away a win they needed to have. Heard that before?
Gonzaga 92, Pepperdine 75: Robert Sacre led the way with 24 points in the win.
Rhode Island 78, Richmond 74: Nikola Malesevic has 24 points and 12 boards, both career highs, and Marquis Jones buried a huge three with under a minute left to give URI a five point lead in Richmond. URI hit 12 threes. They were 7-50 from deep the previous three games.
Utah State 68, Boise State 59: The Aggies are once again the runaway favorite to win the WAC. They knocked off a Boise State team that was undefeated in league play on the road.
UCLA 62, Oregon State 57: The Bruins were up big in the second half, but the Beavers came all the way back to get the game tied at one point in the second half.
Cal 88, Washington State 81 OT: Klay Thompson outscored Allen Crabbe 36-30, but none of his 36 points came in overtime as Cal knocked off Washington State.
Drexel 62, Old Dominion 57: A couple things to note from this one — Drexel was down 32-24 at the half and up 57-44 with 3:00 left in regulation.
West Virginia 93, Providence 63: John Flowers led the way with 24 points, six boards, five assists, five blocks, and three steals in the 'Eers win.
Portland 79, Loyola Marymount 78 2OT: The Pilots won a wild game at home to move to 1-1 in league play. Keep an eye on this team. They are 13-4 and have a top 50 RPI.
Other Notable Games:
Coastal Carolina 74, Winthrop 69
Belmont 88, Lipscomb 52
St. Mary's 71, San Francisco 57
Rob Dauster is the editor of the college basketball website Ballin' is a Habit. You can find him on twitter @ballinisahabit.