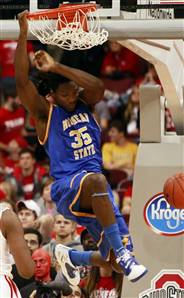 Kenneth Faried's not an unknown player. The Morehead State senior's been college basketball's best rebounder the last three seasons, developed his offensive game each season and even tested the NBA draft water last summer.
But the best publicity he's ever gotten came from Billy Donovan.
When Faried posted a 20-18 game during a 61-55 loss Sunday to Florida, no one came away more impressed than the Gators coach.
"That's Dennis Rodman all over again," Donovan said afterward. "If I was an NBA general manager I'd be taking him with my pick. That's what a next-level guy looks like. He just totally destroyed our frontcourt. … That was definitely an incredible performance by a terrific player."
Ride that quote all the way to the NBA bank, Kenny. Ride it to the bank.
NBA teams love 6-9, 225-pound beasts who chase after rebounds like they're $100 bills. When the 2011 NBA draft rolls around, it'll be easy to market yourself to teams as the energy guy off the bench who eventually becomes a dominant rebounder through force of will and smarts. (And you won't even need Rodman's tattoos!)
And for that, he can thank his mom, Waudda. From an ESPN.com feature on Faried:
Faried credits both of his parents, Waudda and Kenneth Lewis for, "Showing me how to be the man I am today. How to make my own path, create my own destiny, pursue my own dreams. I dedicate every game to my parents. They taught me to be strong and not to accept defeat," he said.
Early on, he learned a very valuable lesson from his mom when he once complained about not getting the ball enough, "If you want to score then go and get a rebound."
Hm. Not sure Rodman's mom ever gave him that advice. Maybe Faried's ahead of the game there.
Want more? I'm also on Twitter @BeyndArcMMiller.