Enes Kanter, as basically everyone expected, has been ruled ineligible by the NCAA.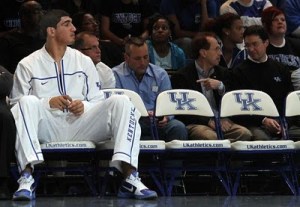 Ray Holloman, Fanhouse: "No one is accusing the coach of sending an envelope of liras via FedEx or fixing a grade on the history of the Ottoman Empire. No one is accusing him of so much as promising to put kabobs on the training table. Kanter isn't a kid charged with two felonies (like Tyree Evans at Maryland and then Kent State) or a kid who can't graduate with his high school class (Tony Mitchell, Missouri's top recruit) or a kid with more eligibility issues than the Chinese women's gymnastics team (say, Renardo Sidney). Calipari didn't knowingly violate a recruiting rule, then make sure to commemorate it in photo form, then lie to the NCAA about it, as Tennessee's Bruce Pearl did. All Calipari did is recruit a kid with known eligibility issues who he believed would be able to play, and give him a chance to play college basketball. The only culpability Calipari could hold is if he knew Kanter took money from his Turkish team and never told his school or the NCAA about it. Let us clear up that mystery for you right now: He didn't."
John Clay, Lexington Herald: "Truth is, getting Enes Kanter eligible was a longshot all along. That doesn't mean that UK's appeal is without merit or hope. There is always hope. This is the NCAA we're talking about, and strange things can happen with the NCAA. But the words "permanently ineligible" have to sting. And the fact that the Indianapolis body put a specific monetary figure of $33,033 deemed above and beyond reasonable expenses make winning an appeal seem something of a longshot, as well."
Matt Jones, Kentucky Sports Radio: "I will talk much more about this tomorrow, but the appeal will be a different proceeding than what took place so far. Whereas the original group that made the determination is a particular set of NCAA employees, the appeal group includes members from the various NCAA schools and has a different set of criteria. The original group simply tries to apply the rule, whereas the appeal body has the ability to look at the rule from a more legal standpoint. There is a consideration of the equities involved (think "fairness" issues) AND Enes Kanter can (and likely will) be able to speak directly to the group). One cant appeal the facts, they are set….but the facts really arent in dispute. What can be changed is how the rule is looked at going forward…something that might help Kanter. It is a long shot, but Enes does have the potential to have a viable appeal due to the unique nature of this being the first interpretation of the rule."
Jeff Goodman, FOXSports: "Unless UTEP coach Tony Barbee or UMass head man Derek Kellogg — two of Calipari's former players — are on the committee, it's difficult to imagine other administrators going against the NCAA's decision in order to clear one of his players. You see, Calipari isn't exactly well-liked in college basketball circles. And now, you've got one of his players, someone who the school has admitted took in excess of $33,000 from a Turkish basketball club, trying to get approved to play college basketball. Kanter's amateur status is now history. He is a pro — plain and simple."
Gary Parrish, CBSSports: "'If Kentucky gets Enes Kanter eligible, I'm recruiting Ricky Rubio next year.' That's what a coach told me a couple of months back, and I think he was joking but I can't say for sure. Either way, what I took from that statement was this: The NCAA allowing Kanter to play despite his background as a professional basketball player in Turkey would, in the eyes of most everybody outside of Kentucky, set a dangerous precedent. That's why I said on a radio show in Louisville on Wednesday that I did not believe the NCAA would clear Kanter, and why I wasn't stunned when the NCAA announced Thursday that it has ruled the UK freshman permanently ineligible. Kentucky will appeal, of course. But good luck with that."
Eamonn Brennan, College Basketball Nation: "Taking Kanter was a chance, but it was a chance that came with no downside. Calipari didn't use a scholarship he would have otherwise given to another player, and if Kanter had been cleared, he would have immediately been one of the best big men in the country. If he wasn't cleared, then oh well, right? Kanter's talent was certainly worth the shot."
John Stevens, Rush The Court: "The issue here was not that Kanter played in games with professional players during his short time playing on the senior level at Fenerbahce. The NCAA statement notes that, "The new NCAA rule that allows prospective student-athletes to compete on teams with professionals while maintaining their amateur status prior to college applies," but then says that Kanter simply received what the NCAA considers too much compensation for that season. Obviously, Kentucky will appeal. Because the school agreed to all of the facts and figures involved in the NCAA's process of making this decision, the appeal will likely center on reducing the harshness of the punishment and citing any remotely relevant precedents to that effect."
Glenn Logan, A Sea of Blue: "This news will require Calipari to rethink how he plays his players. I'm sure he has been doing this for a while now, but he has to consider
the likely reality that Enes Kanter will not be walking through that door. The DDM looks like the way to go now, since he has the personnel to implement that offense, and I expect that he will. He will undoubtedly also throw in some hybrid offense and make some defensive adjustments, possibly even some zone to help hide their lack of size on defense. To my knowledge, Calipari has never consistently run a zone defense, so this may be a learning experience for him as well as his young charges."
Jeff Eisenberg, The Dagger: "Maybe the only blessing here for Kentucky is that the NCAA made a ruling on this before the season rather than clearing Kanter to play and then retroactively vacating the games he played in and declaring him ineligible. It's a small consolation, but at least it's something, right?"
Andy Katz, ESPN.com: "Enes Kanter was an anomaly. He was a projected lottery pick from Europe, but his intentions were to go to college in the United States, at least for a year. This doesn't happen in the new world order of elite, high-level foreign players. If they are on the NBA's radar to be a possible lottery selection or first-rounder, then they are usually held in Europe before being draft-eligible. That's what made the Kanter move so unique."
Rob Dauster is the editor of the college basketball website Ballin' is a Habit. You can find him on twitter @ballinisahabit.