Friday night not only brings with it the weekend — and who doesn't love the weekend — it brings with it the first games that aren't associated with the first real day of games. There are 134 in all. 16 ranked teams play. 34 games are against opponents that are not D-I. We have tip-offs at 1:00 pm EST, 2:30 am EST, and everywhere in between. Should I mention that 103 more games tip of on Saturday and Sunday?
College basketball is back. This time in full force.
Here is your guide to the season's first real day of college basketball. Rejoice!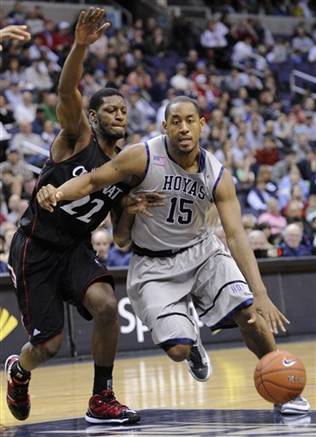 AP
UPSET SPECIAL
Fri. 7:00pm: No. 21 Georgetown @ Old Dominion: To be perfectly honest, calling an Old Dominion win in this game an upset is probably doing a disservice to the Monarchs. Georgetown may have a loaded back court headlined by Big East preseason player of the year Austin Freeman, but ODU is a big, physical, defensive-minded team that beat Notre Dame in the tournament last season.
Watch for a kid by the name of Kent Bazemore on ODU. He's a terrific defender that should give Freeman fits. The last three times these two teams have played, the road team has won, including two ODU victories at McDonough Arena on the Georgetown campus. Will it be four?

UPSET ALERT
Fri. 7:00 pm: William & Mary @ Virginia: The Cavaliers certainly shouldn't be considered a powerhouse program these days, but that doesn't change the fact that they are in the ACC. And William & Mary is in the CAA. UVa is still adjusting to head coach Tony Bennett, but they have a decent combination of freshmen and seniors, including KT Harrell and Mike Scott. But the Tribe proved last season they were capable of being the big boys with wins over Maryland and Wake Forest. Could this be the trifetca?
Fri. 7:00 pm: Lipscomb @ No. 9 North Carolina: Hear me out on this, I have a valid point, I swear. UNC is a young team that will be relying on a number of freshmen and unproven sophomores, namely Harrison Barnes and John Henson, and are very thin inside. Lipscomb has Adnan Hodzic on their roster, a 6'9″ bruiser that is the NCAA's leading returning scorer. Also, this would double as a chance to see freshman Harrison Barnes play his first career game. So there's that, too.
Fri. 8:00 pm: Wofford @ Minnesota: With Trevor Mbakwe now legally cleared to participate, the Gophers are a team that a lot of people are picking to be a sleeper in the Big Ten. But Wofford, the same Wofford that nearly beat Wisconsin in the NCAA Tournament last season. The Terriers are led by Minnesota native Noah Dahlmann, who is one of the best mid-major players in the country.
Fri. 9:00 pm: James Madison @ No. 3 Kansas State: Kansas State may be the best team in the Big XII, but the Dukes of JMU have one of the best 1-2 punches in all of mid-major basketball in Denzel Bowles and Julius Wells.
Fri. 9:00 pm: Oakland @ West Virginia: Oakland center Keith Benson needs to prove to scouts that he is stronger is he wants to be an NBA lottery pick. Playing against West Virginia's front line is a great opportunity to do that.
BEST MATCHUPS
Fri. 7:30 pm: Seton Hall @ No. 22 Temple: Temple has one of the stingiest defenses in the country. Seton Hall — at least the Seton Hall that played for Bobby Gonzalez last season — loved to score. Seton Hall is trying to earn a tournament berth this season. Beating the Owls on the road is a great way to start. There are a number of neat story lines involving the Hall: Herb Pope's recovery, Jeremy Hazell's maturation, Kevin Willard's first game coming against a terrific defense, the Pirate's being underrated.
Fri. 9:00 pm: Fresno State @ BYU: Everyone knows about Jimmer Fredette. But does anyone know about Greg Smith? The Bulldog big man has a chance to be the best player in the WAC this season.
Fri. 10:00 pm: Morgan State @ Loyola Marymount: LMU has a chance to be a good team this year. How good? They should compete for the second spot in the WCC. Morgan State lost Reggie Holmes, they still return big man and MEAC preseason player of the year Kevin Thompson.
Sat. 9:05 pm: Weber State @ Utah State: Rivals in the state of Utah, this could actually turn out to be the best game of the weekend, and not just because USU has an awesome home court. The Aggies are the favorite to win the WAC — and by a good margin, this is one of the better teams Stew Morrill has had. And while Weber State lost three starters, they return Damian Lillard, who may be the best guard you've never seen play.
MOST INTERESTING STORYLINES
Friday:
7:00 pm: North Carolina A&T @ No. 5 Ohio State

: Is Jared Sullinger for real?

7:00 pm: East Tennessee State @ No. 10 Kentucky

: How will the 'Cats handle the news that Enes Kanter is ineligible?

7:00 pm: Stony Brook @ UConn

: Jim Calhoun kicks off a season under the veil of potential NCAA sanctions.

7:00 pm: Northern Iowa @ No. 13 Syracuse

: The Panthers kick off the post Ali Farokhmanesh era while dealing with the fact that their program is at risk of being cut by the school.

7:30 pm: Mississippi Valley State @ Georgia

: How long will an ankle injury keep out Trey Thompkins?

8:00 pm: Longwood @ No. 7 Kansas

: Josh Selby anyone?

9:00 pm: Chattanooga @ No. 20 Tennessee

: How long is Bruce Pearl going to have a job in Knoxville?

9:00 pm: Centenary @ No. 19 Memphis

: This is the kick off to Centenary's last season at the D-I level.

9:00 pm: Northwestern @ Northern Illinois

: The Wildcats begin their march to their first NCAA Tournament. Ever.

9:30 pm: Grambling State @ No. 14 Baylor

: When will LaceDarius Dunn be eligible?
Saturday:
5:05 pm: Montana @ Nevada

: Nevada is leaving the WAC. The WAC tried to get Montana to replace them. Montana said no.

8:00 pm: Hendrix College @ Central Arkansas

: The Big Nasty aka Corliss Williamson is the head coach at Central Arkansas.
Sunday:
5:00 pm: Princeton @ No. 1 Duke

: No. 1 finally takes the floor!

5:00 pm: Howard @ No. 8 Purdue

: We get our first glimpse of the Hummel-less Boilermakers against a team that lost a key freshman to a torn acl last week.

Rob Dauster is the editor of the college basketball website Ballin' is a Habit. You can find him on twitter @ballinisahabit.