OK, enough chatter. The 2010-11 college hoops season is finally here.
Well, maybe a little more chatter. How about the storylines to follow this season? Call it your last-second primer.
Is everyone really chasing Duke?
That's the general consensus. The AP, coaches, most every writer and even the fine folks at Basketball Prospectus expect the Blue Devils to be the lead horse in this season's race.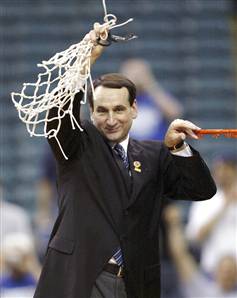 Getty images file
But it's not because they're "Duke." It's because they're talented (Kyle Singler, Nolan Smith and Kyrie Irving all will be in the running for All-America honors, while Mason Plumlee's beloved by NBA scouts), they're deep (Coach K can bring Seth Curry, Andre Dawkins, Josh Hairston and Ryan Kelly off the bench) and have fewer questions than the rest of the field.
Still, Duke isn't perfect. And there will be contender to the would-be throne. Among national media writers, Mike DeCourcy of the Sporting News tabs Michigan State to win it all, while Ohio State, Pitt and Kansas all have enough depth and talent to match the Blue Devils.
Put it this way: Duke's not a "sure-thing" like Kansas was last season. And look how that ended up.
The Big Ten is the best
Like it or lump it – yes, the conference's style occasionally can be painful to watch – no conference can match the Big Ten. The league has more Final Four contenders (Michigan State, Ohio State, Illinois), rock-solid teams (Purdue, Wisconsin, Minnesota) and big Dance hopefuls (Northwestern, Penn State, Indiana) than anyone else.
The Big East may put more teams in the Big Dance, but that's a factor of size, not overall strength. The Big 12 could come close, but the bottom dwellers (Oklahoma, Iowa State) are more pitiable than the Big Ten's. The ACC is full of good, not great teams. The SEC needs more than five schools to focus on basketball.  And the Pac-10? Hah! Good one!
If Robbie Hummel were healthy, this wouldn't even be a topic. It'd be fact.
The best out West
Yeah, so about the Pac-10. Other BCS conference kicked it around and spat on it last season. Thing won't be that different this time around. Washington will win the league again, but the Huskies were supposed to dominate from the start last year, too. We'll see how it goes.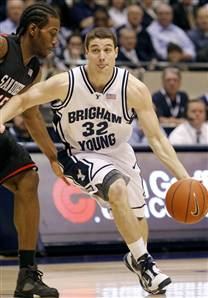 Kenny Crookston/AP
That leaves regional bragging rights wide open. San Diego State, BYU, UNLV and Gonzaga (who the Huskies have no desire to play), all could stake claims as the top team west of the Rockies. In fact, I think all four should be in the Top 25 most of the season, but how it plays into March remains to be seen.
After all, New Mexico tore through the Mountain West last season, snagged a 3 seed in the Big Dance, then got routed by Washington. So stay tuned.
Eligibility's an issue
Kansas, Kentucky and Missouri – three schools with designs on the Final Four – are all waiting on NCAA clearance for players crucial to those would-be runs. The longer the wait, the tougher it'll be to thrive later on.
Kansas has its fingers crossed on Josh Selby, who'll replace Sherron Collins at point guard. The Jayhawks need a physical guard who can get to the basket and finish, and the 6-3 Selby's just that. The NCAA is still investigating his relationship with Carmelo Anthony's business manager.
Tony Mitchell, a 6-8 power forward, is out until at least the second semester due to academic issues. If he does suit up for Missouri, he'll give the Tigers a much-needed boost to their frontcourt, which is usually their Achilles' heel. Only Laurence Bowers and junior college transfer Ricardo Ratliffe have any interest playing down low.
That leaves Enes Kanter. Big Blue Nation has long wished for the NCAA to "Free Enes" only to be ignored thus far. At issue is Kanter's compensation with his former Turkish club, Fenerbache Ulker. Until he's able to suit for the Wildcats, John Calipari's going to emphasize small-ball, a la Villanova in 2006.
Freshmen will be the difference for three programs
North Carolina's coming off a rare non-NCAA tournament year. Kentucky's returning minutes are lacking because it placed five guys in the NBA. And Memphis relinquished its control of Conference USA during Josh Pastner's rebuilding season.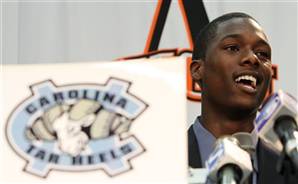 AP
Enter the newcomers.
The Tar Heels will merely ask Harrison Barnes, 2010's top recruit, to led them back to the NCAAs. Judging from his preseason acclaim – even the AP tossed him an All-America nod – it should be a snap. The 6-7 wing merely has to boost UNC's perimeter game, rebound and defend, or basically be this year's John Wall/Kevin Durant. He'll have help, though. Fellow fine frosh Reggie Bullock can score and Kendall Marshall will push Larry Drew II for the starting point guard job.
Pastner's Tigers have the best recruiting class of anyone not located in Lexington, Ky. Between Will Barton, Joe Jackson, Jelan Kendrick and Tarik Black, Pastner has enough talented young players not only to send Memphis back to the Big Dance, but to make a Final Four run. Laugh at that notion all you want. You don't have to guard these guys.
Which brings us to Kentucky. Remember what John Calipari did with a handful of talented freshmen (and a few upperclassmen) last season? Get ready for an encore. The Wildcats may fall short of 35 wins and a spot in the Elite Eight, but there's no shortage of NBA-caliber players in Lexington. And when it comes to making noise in March, don't ever ignore talent.
A bigger dance, a bigger bubble
Did you hear? The NCAA tournament expanded. By three teams. That means three fewer coaches get to piss and moan about the NCAA tourney seeding committee – and fans get to watch four games on Tuesday instead of just one.
That's the good part. The downside is it'll make for a more confusing bracket (who advances to which region to play which seed again?) and critics bemoaning the further degradation of quality teams playing for the national title.
To which I say pish. More games + more teams = more fun in March. Like you're really gonna get mad about having to watch more basketball.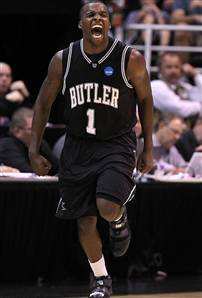 Jed Jacobsohn/Getty
This year's Butler
When the NCAA tournament rolls around, which non-BCS school is going to surprise the big boys by making a run to the Final Four? Well, the Bulldogs are one of 'em. Gordon Hayward's gone, but Butler remains a doggedly tough team thanks to guys like Shelvin Mack, Matt Howard and Ronald Nored. Another Final Four is a longshot, but a possibility.
Also keep your eye on teams like SDSU, BYU, Gonzaga, Temple and Wichita State.
As for the schools most likely to stage early upsets in the tourney, try this link. Trust me. The guy knows what he's talking about.
Fading powers
Don't expect much out of Louisville, Connecticut or UCLA this season. All three are dealing with talent gaps or off-court issues and all three could miss the NCAA tournament.
The Cardinals are waiting for next season when Rick Pitino welcomes a much-need influx of talent. Until then, they're a middle-of-the-road Big East team. They might finish ahead of UConn, but that's only because Kemba Walker doesn't have anyone to pass to. And that's not a forgiving conference when it comes to rebuilding.
If Ben Howland's Bruins make the Big Dance, it'll be because the Pac-10's weak competition boosted their overall record to a respectable level. Tyler Honeycutt and Malcolm Lee, along with freshmen Tyler Lamb and Josh Smith would beg to differ about the talent gap. The rest of us are skeptical.
Mike Miller's also on Twitter @BeyndArcMMiller, usually talkin' hoops. Click here for more.