We're a football nation. The NFL rules the TV ratings, college football rules Saturdays and high school football's the choice for Friday night fun.
But there are pockets where hoops still rules.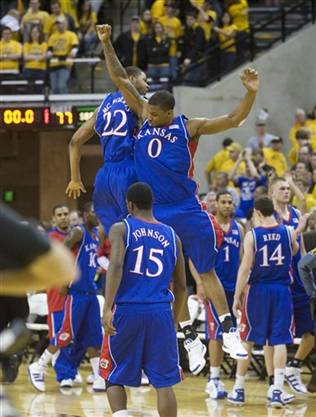 L.g. Patterson / AP
Memphis, for one. The Raleigh-Durham corridor. Lexington, Ky. Kansas City. Those are some of the biggies. There are many, many more pockets.
So there needs to be a center of it all, right? K.C.'s trying to brand itself just that. Sam Mellinger from the Kansas City Star spells it out:
Most other places ignore college basketball until February. Here, it's a big part of our identity. Football pays the bills and draws the TV ratings. But here, now more than ever, basketball is becoming our obsession.

… Put it all together and Kansas City turns into a microcosm of a bigger conference trend in which basketball is about to become more interesting and important, starting this week and continuing next year when a Big 12 without dead weight from Colorado and Nebraska gets even better in hoops.

"Basketball is going to be the one sport in our league that's really going to take off," Texas coach Rick Barnes says. "People will look at it in the near future as the best basketball league in America."
To which I say, right on. Am I biased because I went to school in Lawrence? Maybe. But it's also a smart move by a city that has the goods to back it up.
The only thing missing from Kansas City's plan? It'll never host the Final Four. Not unless things drastically change – like a dome's added to Arrowhead or the NCAA stops putting college hoops' final weekend in massive stadiums.
So maybe that's the K.C. group should really sink its teeth into. Yes, brand Kansas City as the center of college hoops. Then get the game's most important weekend back into venues it was meant to be played.
You know, like in front of 15,000-20,000 people?
Mike Miller's also on Twitter @BeyndArcMMiller, usually talkin' hoops. Click here for more.