Pre-season Awards
Player of the Year: Jimmer Fredette, BYU
This
one isn't even all that close. Fredette averaged 22.1 ppg and 4.7 apg
last season while shooting 44% from three and 89.6% from the line. He
is a big time scorer with out-the-gym range. Fredette has a tremendous
handle, and is a crafty finisher in and around the rim. What Dave Rose
likes to do with this team is, essentially, spread the floor and allow
Jimmer to operate. He can get into the paint, and if the defense
collapses on him, he can kick out to the open shooters. If there is a
knock on Fredette, its his defensive ability and his toughness.
Fredette missed time — a couple of games, a second half during
conference season — due to a couple of different illnesses.
Regardless, this is an extremely talented kid that will put up
impressive numbers for a team that competes for the conference title.
He's a potential first-team all-american, which don't come around the
MWC all that often.
And a close second goes to: Kawhi Leonard, San Diego State
Leonard
is a specimen. He's a 6'7″ athlete with long arms and he knows how to
use those tools. He's really aggressive going to the glass, which sets
the tone for the rest of his SDSU teammates, and is a terror when he
gets out in transition. What sets Leonard apart from other big men in
the MWC is that he plays, and projects at the next level, as more of a
perimeter player, a Gerald Wallace kind of guy. Last season, most of
his production came as a result of his tools — offensive rebounds,
transition buckets, getting into the lane and elevating over defenders
for a short jumper. Most players make their biggest jump between their
freshman and sophomore years, and I expect Leonard to make that jump if
he has improved his offensive repertoire. A better jumpshot, more fluid
offensive moves, and an improved back-to-the-basket game (he plays the
three quite a bit for this team) would make him arguably the best
player on the west coast and a much more ideal NBA prospect.
Breakout Star: Dairese Gary, New Mexico
Last
year, all anyone talked about for New Mexico was Darington Hobson's
talent and the big shots hit by Roman Martinez. But flying under that
radar was Gary. Gary reminds me a bit of Chauncey Billups. He is a
strong, athletic point guard that plays with great control. He can get
to the rim and is excellent at drawing fouls and getting to the line,
but he's not overly aggressive. He can knock down threes, but he
doesn't force too many. And most importantly, he makes big shots and
shows up for big games. He averaged 20 in the Lobo's last seven games,
and put 25 and 23 on BYU in the Lobo's two wins. Steve Alford is going
to need Gary to step up before Drew Gordon gets eligible, and even when
Gordon is on the court. New Mexico doesnt have a ton of playmakers this
season, so expect big numbers, and a number of big shots, out of Gary
this season.

All-Conference First Team
POY – Jimmer Fredette, BYU, Sr.
G – Dairese Gary, New Mexico, Sr.
G – Tre'Von Willis, UNLV, Sr./Ronnie Moss, TCU, Jr.
G – Jackson Emery, BYU, Sr.
F – Kawhi Leonard, San Diego State, So.
F – Drew Gordon, New Mexico, Jr.
All-Conference Second Team
G – Oscar Bellfield, UNLV, Jr.
G – Chace Stanback, UNLV, Jr.
G – Afan Muojeke, Wyoming, Jr.
F – Andy Ogide, Colorado State, Jr.
F – Malcolm Thomas, San Diego State, Sr.
Freshman of the Year: Alex Kirk, New Mexico
Kirk
was a bit of a steal for Steve Alford. A ranked recruit (he is in or
around the top 100 on most of the major recruiting sites) that was
pursued by a number of big time programs, Kirk is a 6'10" forward with
excellent range on his jump shot. He's solid when operating in and
around the paint, and looks to be a decent defender as well, but it is
his jump shot that makes him so valuable to New Mexico. Alford likes to
run an offensive with a spread floor, and with a post talent like Drew
Gordon joining the fray in December, keeping space in the paint would
be ideal. Kirk is an excellent shooter out beyond the three-point line,
which means that not only will pick-and-pops with Dairese Gary be a
weapon in Alford's arsenal, Kirk will force a defender to stay close to
him. Expect Kirk to see a lot of important minutes this season.
All-Freshman Team
G – Kendall Williams, New Mexico
G – Kyle Collinsworth, BYU
G – Jamaal Franklin, San Diego State
F – Karam Mashour, UNLV
F – Chad Calcaterra, Colorado State
What Happened?:
What's Next?:
A memorable ending to the MWC

:
As we mentioned earlier, this will be the final season that the MWC
looks like the MWC we in the college basketball world have grown to
love. Can these clubs send the league out in fashion? Last season, four
teams made the NCAA Tournament. This season, those same four look to be
capable of making another tournament run. Wouldn't that be something?
Breaking up a league that sent four teams to the tournament in
back-to-back seasons? Breaking up what is probably the best conference
out west?

A battle up top

:
I think San Diego State is the best team in the conference. But BYU has
the best player, and New Mexico looks like they will once again be a
force to be reckoned with, especially with Gordon gets eligible in
December. All three of those teams have a very real shot at winning the
conference title. What if Tre'Von Willis is allowed to participate this
season? There could very well be a four-way battle in the final week of
the season for the MWC title. That would be fantastic.

Another battle up top

:
Jimmer Fredette seems like the safe bet for preseason player of the
year, but its not a sure thing. Kawhi Leonard is a beast. Dairese Gary
is one of the most underrated guards in the country. Drew Gordon should
have a big season. Tre'Von Willis? Ronnie Moss? Afam Moujeke? There are
soe very good hoopers in this league.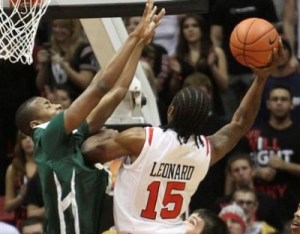 San Diego State

:
SDSU has an absolutely loaded front line, one that is good enough to be
considered among the best in the country. It starts with sophomore
Kawhi Leonard, who is one of the country's best kept secrets. A 6'7″
power forward, Leonard is already one of the best rebounders in the
league thanks in large part to his great wingspan and athleticism. He
has the tools to be a combo-forward, and as his offensive repertoire
develops, he will only get better. Joining Leonard up front are seniors
Billy White and Malcolm Thomas, both of whom averaged double figures
last season, and Brian Carlwell, a 6'11" center. With that group, the
Aztecs are once again going to be a team that goes hard to the
offensive glass (8th in the country in OREB% last season). The back
court was where SDSU had a bit of an issue last season, as they didn't
have a ton of shooting threats. Their best back court player is DJ Gay,
a 6′ point guard that will be counted on as Steve Fisher's primary ball
handler and creator. He did average 10 ppg and 3 apg, but a bump in his
ability as a creator would help improve SDSU's efficiency on their
first shot. Chase Tapley does return as well, and with the addition of
freshman Jamaal Franklin and Washington State transfer Xavier Thames,
Fisher will have more options in his back court this year. SDSU will be
the popular pick as MWC favorite.

BYU

:
The good news is that the Cougars will bring back Jimmer Fredette,
their dynamic point guard that had declared for the draft back in
April. Fredette may very well be the most exciting player in the
country. He's not overly quick or athletic, but he is a lights out
shooter off the catch or the dribble with range for days, he has
ankle-breaking handle, and he has a crafty game in and around the
paint. The bad news is that BYU loses quite a bit outside of Fredette.
Jonathon Tavernari and Chris Miles graduated, the talented but
enigmatic Michael Loyd Jr. got the boot, and Tyler Haws will be taking
two years off for his Mormon mission. The Cougars do get Jackson Emery,
who may actually be a better shooter than Fredette, back for his senior
season to join Fredette on the perimeter. Junior Charles Abouo also
returns, but the key may be the development of freshmen Kyle
Collinsworth and Anson Winder, who were both fairly highly regarded
high schoolers. Up front, Noah Hartsock and Brandon Davies will both
return, as does 6'10" junior James Anderson, who has played limited to
this point in his Cougar career. Chris Collinsworth, a 6'9″ sophomore
(and Kyle's older brother) that just got back from his two-year
mission, will also be back. No one on the Cougar front line has much
scoring prowess, but there are some big, physical bodies that will be
able to bang on the block with just about anyone. Fredette alone is
enough to make BYU a contender in the MWC, but the issue is going to be
replacing the pieces they lost. Haws and Tavernari, who played some
power forward for the Cougars, were good enough shooters to spread the
floor and let Fredette have space to operate. Loyd was a dynamic scorer
that was able to complement Fredette and provide Rose with playmaker
insurance if Fredette got hurt or tired. The Cougars will be in the mix
all season long, but I'm not convinced that this team will be as good
as they were last year.

New Mexico

:
The Lobos, who had a disappointing end to a 30 win season last year,
lose MWC player of the year Darington Hobson and sharpshooting Roman
Martinez. In their stead comes Emmanuel Negedu and Drew Gordon, both of
whom were top 25 recruits in 2008. Negedu's plight has been well
documented, but he is a strong, athletic forward that will help New
Mexico on the glass and in the paint defensively. Gordon will likely be
better. A 6'9″ power forward that averaged double figures at UCLA will
have spent a full year developing his game by the time he gets eligible
in December. Gordon also underwent knee surgery this offseason, but he
should be ready to go before he is eligible to suit up. Its difficult
to imagine that Gordon won't be a dominating force in the MWC. AJ
Hardeman, a 6'8″ forward that played significant minutes last year, is
also back. Freshman Alex Kirk, a 6'10" forward that reminds some people
of Wisconsin's Keaton Nankivil, could be the x-factor along the front
line, as his shooting touch can spread the floor will make him a nice
complement to Drew Gordon inside.. With this strength in their front
court — particularly Gordon — don't be surprised if New Mexico looks
to get the ball inside more often this season. The Lobos return their
starting back court. Dairese Gary is a strong, athletic point guard who
loves to have the ball in his hands late and reminds me a little bit of
Chauncey Billups. He was a 1st team all MWC performer, and played his
best basketball down the stretch. Long range threat Phillip McDonald
returns as well. The issue for this New Mexico team will be developing
depth. Will Brown and Nate Garth are no longer on Steve Alford's
roster, which means that seldom used returners like Chad Adams, Jamal
Fenton, and Curtis Dennis, along with Alford's four incoming freshmen,
are going to be fighting for minutes. The Lobos have talent at the top
of their roster, and as long as Alford can develop some depth, this
team will be in the mix for the MWC title when Drew Gordon gets
eligible.

UNLV

: UNLV's
season was seemingly in jeopardy over the summer when Tre'Von Willis
was accused of assaulting and choking a woman at an off-campus
apartment. But last month, Willis plead out to reduced charges and got
handed a one (non-exhibition) game suspension, meaning that UNLV's
leading scorer — and the most dangerous offensive weapon in the MWC
not named Jimmer — will play for Lon Kruger this season. Willis was
far and away the best scorer on the UNLV roster last season, but that
doesn't mean there isn't talent here. Chace Stanback should be counted
on to develop a more predominant scoring role, while point guard Oscar
Bellfield and wing Derrick Jasper — who should be fully healthy — are
both talented enough to improve on their numbers from a year ago. Don't
be surprised if sophomore Anthony Marshall has a big year, while
freshman Karam Mashour should also see some minutes. With the notable
exception of Kendall Wallace, who tore his acl,
the Rebel's entire back court returns. The issue for UNLV will be in
the front court. Darris Santee graduates and Matt Shaw was kicked out
of the program. Brice Massamba does return, and redshirt freshman
Carlos Lopez will be eligible. The key, however, may end up being
Kansas transfer Quintrell Thomas, who gets eligible this year. Thomas
was a top 100 power forward out of St. Patrick in New Jersey, and
should provide the Rebels with some much needed muscle inside. Even
without Willis, this is a team that plays a similar style to last
season, spreading the floor and allowing their talented perimeter
players to make things happen.

Colorado State

:
The Rams will be an interesting team to watch this season. They went
just 16-16 last year, but those 16 wins were equal to head coach Tim
Miles production his first two years in Fort Collins. They went 0-9 on
the year against the MWC's four tournament teams, but they cleaned up
against the bottom of the league and finished fifth in the standings.
But most importantly, they bring back the majority of their roster.
Four starters return, including senior forwards Andy Ogide and Travis
Franklin, who were both double digits scorers a year ago. Pierce
Hornung and Greg Smith will provide depth, but the real test will be
whether big men Trevor Williams, a 7'0″ redshirt freshman, and Chad
Calcaterra, a 6'10" three-star recruit, are ready to compete at this
level. Sophomore Dorian Smith is back. He had a very good year as the
Rams' primary ball handler, leading the team in minutes, points, and
assists. Sharp shooter Adam Nigon returns, as does Andre McFarland, who
dealt with back issues all last season. Rounding out the back court
rotation is Jesse Carr (returning from an injury last season), Wes
Eikmeier (an Iowa State transfer), and freshmen Maurice Wiltz and
Dwight Smith. This is going to be an experienced team that finally got
a taste of the postseason, even if it was the CBI. They need Smith to
develop into a go-to scorer, and they need Calcaterra or Williams to
develop into a contributor, but if you want to pick a sleeper in this
league, Colorado State is your team.

TCU

:
The Horned Frogs are going to have a tough time improving on the year
they had last season — five conference wins — but it won't be Ronnie
Moss' fault. After averaging 15 points and 6 assists last season, Moss
was a second team all-MWC performer. He will be joined in the back
court by Hank Thorns, a 5'9″ Virginia Tech transfer that started
part-time for the Hokies. Beyond that, much of the Horned Frogs depth
is going to come from newcomers — Jarvis Ray is a 6'6″ freshman guard,
while JR Cadot and Sammy Yaeger are JuCo transfers that will provide
some depth at the off-guard spot where TCU will be looking to replace
the shooting of Edvinas Ruzgas. Up front is an even bigger question
mark as the team's leading rebounder, Zvonko Buljan, graduated. Nikola
Cerina and Garlon Green both had decent freshman seasons that could
turn into promising sophomore years, but after that its a bunch of
question marks. Freshman Amric Fields, JuCo transfer Andre Clark, and
Howard transfer Cheick Kone (who is coming off of knee surgery) should
help with size and depth. Expect a big year from Moss without a lot of
wins to show for it.

Wyoming

:
Last year was a rough one for Wyoming. Leading scorer Afam Muojeke blew
out his knee midway through the year and two players — starter AJ
Davis and Thomas Manzano — left the team mid-season. The good news is
that much of that roster returns, although bringing back a group that
won just 10 games isn't awe-inspiring. As I said, 6'8″ wing Muojeke is
back while sophomore Desmar Jackson, who showed some signs of being a
player as he filled in Muojeke's scoring role, also returns. JayDee
Luster will man the point, while Adam Waddell and Djibril Thiam look to
be the starters in Wyoming's front court. Its difficult to imagine
Wyoming making the jump to contender this season, but with the pieces
they have coming back — especially a healthy Muojeke, who led the
Cowboys to an 8-8 start — Wyoming should be (much) more competitive in
league play.

Utah

:
After an incredibly inconsistent 2009-2010 season, Jim Boylen's last
season in the MWC looks like it will be a rebuilding one. Luka Drca and
Kim Tillie have graduated while Carlon Brown and Marshall Henderson
have transferred, meaning that the Utes lose four of their top five
scorers and essentially all of their back court. The guys that do
return — Shawn Glover and Jace Tavita — averaged a whopping 4.8 ppg
in over 32 combined minutes. Of Boylen's nine newcomers (five of who
are freshmen), seven are either guards or wings, which means that there
will be some serious competition for minutes and plenty of available
shots. The front court does return some big bodies — 6'8″ Jay Watkins,
7'0″ Jason Washburn, and 7'3″ David Foster (who averaged 4.0 bpg). The
front court for Utah has some size and talent, but how good the Utes
are this season is going to depend on what they can get out of the new
guys in their back court.

Air Force

:
The Falcons weren't just bad last season. They were terrible. They won
just two games in conference play, both again Wyoming (who went 3-13 in
the league), one of which came during the MWC tournament. Their best
win last season came against Niagara. And they lose leading scorer
Grant Parker. But there is reason for optimism here. For starters, Air
Force was pretty solidly decimated by injuries last season. Eleven
different players started a game — Parker missed ten games, while
third leading scorer Tom Fow missed four and starting center Sammy
Schafer suffered a concussion so serious he missed the last 28 games of
the year — which means that there are a number of kids with real game
experience on this roster. It was also a young roster last season. Fow
and Evan Washington are both tough and fairly talented seniors that
return to anchor the roster, but the rest of the rotation (which
included a whopping 21 players in 2009-2010) will essentially be made
up of sophomores with a few juniors sprinkled in. There is room for
improvement here. Air Force put up some good fights last season in
conference play — they nearly knocked off New Mexico twice — but they
didn't have the scoring power to spring an upset. The Falcons should
more competitive, but without a major influx of talent (which isn't
coming this year) their best case scenario is a .500 season with a
handful of league win.