Need an update on America's favorite underdog, the Butler Bulldogs? Say no more.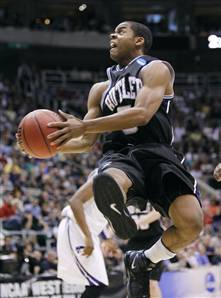 Lucy Nicholson/Reuters
Ronald Nored
---
Let's turn to SI.com hoops writer Luke Winn. If Butler has a bard among mainstream media, it's Winn. (Kyle Whelliston has the job full-time.) His observations from watching the Bulldogs at a recent practice include:
Ronald Nored's shooting is improving. The junior point guard is unmatched as an on-ball defender, but he made just nine of 46 shots from beyond the arc last season. Offseason surgery forced him to chill out and focus on his shooting this summer. Expect a bump.
"I shot 30 or higher all through high school," Nored said, "so I don't think it's out of the question." That happens, Matt Howard's life gets much, much easier in the post.
Howard isn't bringing back the 'stache. Pity for us, good for his fashion sense. (Shaving was a priority given Howard, a senior center, spent the summer as an intern with Merrill Lynch.)
This may be Shelvin Mack's last season in college. The 6-1 guard killed it during summer sessions with USA Basketball thanks to Chauncey Billups and Rajon Rondo teaching him to be more efficient at finishing in traffic and becoming a better defender.
Butler's likely starting lineup: Nored, Mack, Shawn Vanzant, Khyle Marshall and Howard. Vanzant steps in for the graduated Willie Veasley, while Marshall's the best bet to fill Gordon Hayward's shoes (not all by himself, mind you).
Final verdict? I have Butler at 18 in my preseason Top 25. Winn thinks that's about right.
I saw nothing in practice to dissuade me from ranking them in the top 15 in the preseason, though. It's a team that still has the vibe of a winner, but a lot would have to happen for them to ascend to top-five status: Vanzant and Marshall becoming huge defensive assets; Mack and Howard having monster offensive years; and one of the auxiliary big men (Smith or Butcher) having a breakout season.
No Final Four perhaps, but the Bulldogs can remain everyone's favorite underdog in March.
Mike Miller's also on Twitter @BeyndArcMMiller, usually talkin' hoops. Click here for more.