Jimmer Fredette's good. We're all agreed on that.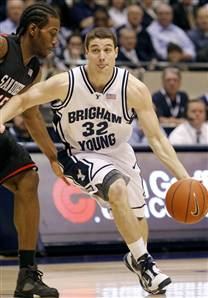 Kenny Crookston/AP
But BYU's gonna need more than just its star senior guard to make a run at the Mountain West title and another NCAA tournament win. As he told Gary Parrish: "We've played really well all three years I've been here, and that isn't all me," he said. "I've been able to get some exposure and play some pretty good games. But without my teammates and without my coaching staff putting in the game plan and letting me have freedom, I wouldn't be in this position."
OK, then. Who's it gonna be? Four key players are gone from last year's 30-6 squad, including starters Tyler Haws (LDS mission), Chris Miles (graduation),  swingman Jonathan Tavernari (graduation)and explosive guard Michael Lloyd (transfer).
That leaves Cougars coach Dave Rose to sort through the remaining players and figure out who's ready, and who's not. As they prep for Friday's Cougar Tipoff, Rose has glowing reviews for three guys. From the Deseret News:
"I'm really impressed with our two returned missionaries, Nick (Martineau) and Chris (Collinsworth). Both of them are in really good shape and they've jumped right back in as far as grasping our system, and both play really hard."
"I like [Stephen Rogers]. I think that he's really going to help us," Rose said.
That's two guards (Collinsworth and Martineau) and a forward, or three guards who should be able to step into those needed spots, not to mention junior wing Charles Abouo, whose minutes increased late last season.
Fredette can't do it all. The sooner those guys step up, the better for BYU.
Mike Miller's also on Twitter @BeyndArcMMiller, usually talkin' hoops. Click here for more.