Kansas is still awaiting an NCAA eligibility on freshman guard Josh Selby. Kentucky's doing the same with freshman center Enes Kanter. Missouri hopes freshman forward Tony Mitchell will be cleared for the second semester of the 2010-11 season.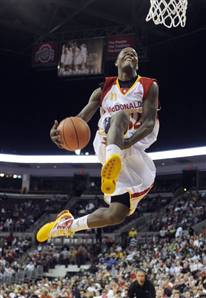 Henny Ray Abrams/AP
But let's be clear: Those schools aren't doing anything wrong by recruiting those players, NCAA eligibility issues and all.
Every other school would do the same for players that talented, provided they're willing to spend a scholarship on a guy who may not play.
"It's not a risk to your program, because if violations are committed, they aren't attributed to your school," says one high-major assistant coach who recruited Selby. "Although it's a big loss if he's not eligible to play, you're not going to get put on probation or anything like that."
That's from a short rundown by SI.com's Pablo S. Torre, who goes into what's holding up each player from competing this season.
For Selby, it's partly academics, partly his relationship to Carmelo Anthony's business manager, Robert Frazier. The 6-2 guard has been allowed to attend classes at KU and practice with the team while they await word on his status.
"It hasn't been a distraction," Self said last week. "I'm confident he'll be in uniform."
The worst-case scenario for Selby, Kanter or Mitchell would be what happened to Renardo Sidney last season. He missed all of 2009-10 while the NCAA investigated if he received improper benefits during high school. He'll miss the first nine game this season before finally suiting up for Mississippi State.
And will he be worth the wait? That's what all these schools are wondering. Sometimes, it's a risk worth taking when the end result may be a Final Four.
Mike Miller's also on Twitter @BeyndArcMMiller, usually talkin' hoops. Click here for more.