Don't go falling in love with freshmen like Ohio State's Jared Sullinger, North Carolina's Harrison Barnes and Baylor's Perry Jones. They head the list of this season's one-and-done players.
Also included: Duke's Kyrie Irving, Kansas' Josh Selby, N.C. State's C.J. Leslie, Memphis' Will Barton, Syracuse's Fab Melo and Kentucky's trio of Brandon Knight, Enes Kanter and Terrence Jones, among others.
If any of those guys return for their sophomore seasons, consider it a pleasant surprise for hoopheads.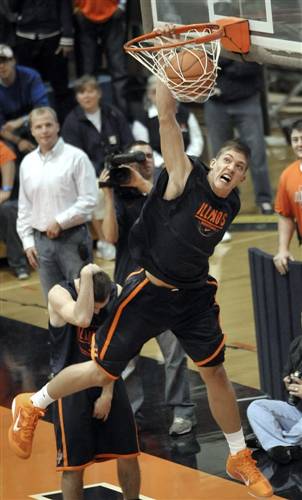 Robin Scholz / AP
Who's that leave? Fifteen talented guys you can watch this season and next.
Vander Blue, Marquette
The 6-3 guard was the Wisconsin player of the year and backed out of playing for Bo Ryan so he could suit up for Buzz Williams. Jimmy Butler will be the Eagles' go-to guy, which means Blue can focus on doing what he does best – attacking the basket and playing multiple guard spots. You'll spot Blue by the ink on his arms.
Reggie Bullock, North Carolina
Think Wayne Ellington, only taller. The 6-6 guard could start for the Heels, who need someone to stretch defenses with a reliable outside shot. The rest of his game needs work, which will be the only thing keeping him in school past his freshman season.
Joe Jackson, Memphis
Forget one or two seasons. Tigers fans are hoping the Memphis native sticks around four years. The 5-11 point guard is lightning quick, savvy and bound to make life easier for his young, talented teammates. Or he'll just do it himself. There's a little bit of Allen Iverson in Jackson.
Tobias Harris, Tennessee
This may be a stretch, but I can hope, right? The 6-8 forward is adept in the pain or on the perimeter and rarely slacks off. That's perfect for Bruce Pearl's Vols, who thrive with versatile, athletic players. Harris will overmatch nearly every defender he faces, which means he's not long for the college game. But two seasons? That's possible.
Ray McCallum, Detroit and Trey Ziegler, Central Michigan
What are a five-star prospect and a four-star prospect doing playing at mid-majors schools? They're playing for their dads. If that's not worth cheering, I don't know what is. McCallum's heady point guard, while Ziegler's a shooting guard who could lead the MAC in scoring.
Ian Miller, Florida State
The latest in a series of top-flight talent in Tallahassee, Miller should vie for ACC freshman of the year honors. The 6-3 guard is a solid finisher and aggressive getting to the rim, a godsend for a 'Noles team that struggles getting the ball in the basket.
Tyler Lamb, UCLA
The 6-4 Lamb is just what the Bruins were missing last season – an athletic guard who can hit from outside or get to the rim. He'll play, too. UCLA coach Ben Howland's been impressed by Lamb's defensive effort.
Adreian Payne, Michigan State
A 6-10 center who thrives on defense, can block shots and rebound? Sounds like a Tom Izzo player to me. Payne figures to spell Spartans post players Delvon Roe and Derrick Nix this season, then step into a more prominent role the next few seasons as his offense develops.  
Phil Pressey, Missouri
The Tigers' system is built around guards who can push the pace and pressure defenders. That's perfect for Pressey, a 5-10 blur who also isn't afraid of challenging taller foes at the rim. He and his brother, Matt, could be Missouri's backcourt for years to come.
Jereme Richmond and Meyers Leonard, Illinois
Richmond, a 6-7 wing, and Leonard, a 6-10 center, are the gems of Illinois' 2010 class and could step into prominent roles once Mike Davis and Mike Tisdale graduate this spring. If the freshmen pair can match the consistency and productivity of Davis and Tisdale, the Illini are set.
Terrence Ross, Washington
The early favorite for Pac-10 freshman of the year. The 6-5 guard should thrive thanks to Huskies point guard Isaiah Thomas, who excels at driving the lane and dishing to open teammates around the arc. That's perfect for Ross, whose best asset is his sweet stroke.
J.T. Terrell, Wake Forest
Here's all you need to know about the 6-4 guard, courtesy of Dave Telep: "Somebody told me he was shooting it from one step past half court off a ball screen," Wake assistant Jeff Battle said. "Who would shoot that? They said he makes them, too. I don't know if coach will let him shoot 50-footers, but he can do it."
Dion Waiters, Syracuse
Someone's going to have to pick up the scoring slack with Wes Johnson and Andy Rautins gone. That falls to Kris Joseph and Waiters, a tremendous talent who can step into Rautins' role as the perimeter threat. Added bonus: Unlike Rautins, Waiters can get to the rim.
Patric Young, Florida
The solution to the Gators' frontcourt issues. The 6-8 Young grabs rebounds, blocks shots and intimates foes with his imposing build. He's not polished offensively, but that's the main reason he'll be in Gainesville more than one year. Guys with his athleticism are usually NBA bound ASAP.
Mike Miller's also on Twitter @BeyndArcMMiller, usually talkin' hoops. Click here for more.