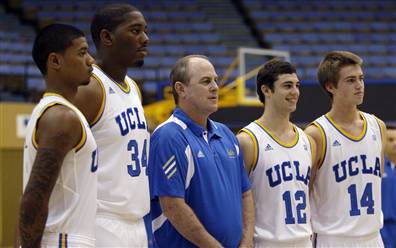 AP
Ben Howland's intent on making UCLA's 2009-10 season a distant memory. Hey, another 14-18 mark in Westwood and he's brushing up his résumé.
So why the optimism?
Freshman center Josh Smith dropped 50 pounds and may actually be a load in the low post. Competition for the starting point guard job should only make Jeremie Anderson and Lazeric Jones play harder. And freshman Tyler Lamb's already impressed Howland with his defense, toughness and outside shooting.
Perhaps the best reason? The Bruins spent the summer whipping themselves into shape.
UCLA athletic performance coach Wes Long told the L.A. Times that Brendan Lane joined Smith is dropping massive amounts of weight, guard Reeves Nelson now has 5 percent body fat and Tyler Honeycutt and Malcolm Lee only got stronger.
None of that will help the Bruins score. But an in-shape, healthy roster might signal a return to a more familiar Howland trademark: nasty defense.
And if there's anything that'll get the Bruins back to the top of the Pac-10, it's that defense. During UCLA's three straight Final Fours from 2006-08, they were third, second and third in kenpom.com's adjusted defensive efficiency. Last year? 138.
Mike Miller's also on Twitter @BeyndArcMMiller, usually talkin' hoops. Click here for more.