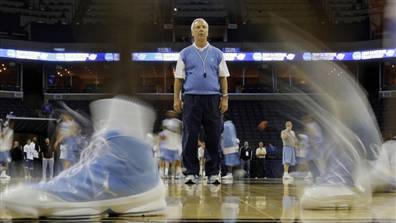 Matt Slocum/AP
Roy Williams isn't about to endure another sub-par season at North Carolina. So he went old school with the Tar Heels' summer training.
He ran their asses off.
UNC used the same conditioning program Dean Smith's boys used in the summer of '81, back when Williams was the assistant in charge of summer training. If it was good enough for Michael Jordan, James Worthy and Sam Perkins, Williams says it's good enough for this group. From the Asheville Citizen-Times:
"I told them I thought they were a bunch of pansies, and we got to get tougher," Williams said.

"Players are so pampered now," he said. "I wanted them to know I don't care how they feel if they have a hangnail. There was some grousing in the locker room … but I told them to get their butts out there and do it.

"(Sophomore forward) John Henson was the greatest (example). He was panicking and stressing out. I told him to shut up and run."
Being in basketball shape usually isn't a problem for UNC. Williams' teams are always among the nation's most up-tempo squads. This was about getting players out of their comfort zones by pushing them to levels they didn't know they could reach.
"It challenged a lot of people, and you push yourself beyond what you're used to," Tyler Zeller told the Raleigh News & Observer. "I think pretty much everyone on the team would agree that it's the toughest thing we've ever done, as far as conditioning – or anything, as far as running."
How much running? Three times a week over four weeks. Players started by running a mile, followed by two 200-meter dashes. By the final week, it was a 400, followed by 10 200s with 90 seconds of rest in-between.
"It's not necessarily directly conducive to basketball training, because you don't run 200 meters on a curve in a basketball game," Williams told the Raleigh News & Observer. "But this was tough…. And it will be even better next year, because we'll make it a little bit tougher, and they'll be a little more experienced with it, and they'll realize that they can do it. Hopefully, they'll get that kind of attitude during the game."
Mike Miller's also on Twitter @BeyndArcMMiller, usually talkin' hoops. Click here for more.