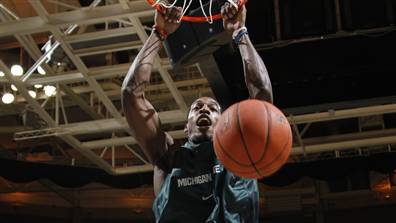 Al Goldis / AP
There's plenty to like about Michigan State this season. The mix of depth, experience and talent at every position makes the Spartans one of the elite teams for 2010-11.
The only worry? Nagging injuries and health issues.
Well, maybe those worries should be put to bed. Joe Rexrode of the Lansing State Journal watched an "eye-opening" practice this week where he was not only wowed by the overall talent, but by how fresh everyone appeared. From his blog:
What I saw, in brief: Kalin Lucas and Korie Lucious looking more like themselves than I expected; Derrick Nix and Draymond Green with much less of themselves (and in Nix's case, much more quickness and stamina; Green practiced Wednesday for the first time after spraining his ankle at Midnight Madness, and he isn't 100 percent yet); Delvon Roe doing things like grabbing a rebound, racing the ball downcourt and finishing like a big guard (more on that later); Adreian Payne showing why Tom Izzo put him on the short list of most athletic players he's recruited, and this is a 6-10 guy with a 7-2 guy's wing span and a jumper (but give him time, he's still a skinny freshman); a team that can go big in waves with an improved Garrick Sherman and a physically strong Alex Gauna in the mix; a team that can go small and really fast, and should get some help from Mike Kebler and Austin Thornton (who seems to be OK after a scary back injury); more quickness and explosion than I realized Keith Appling had.

Oh, and Durrell Summers. He's pretty good. So sign me up for the outrageous expectations bandwagon.
If that's not a ringing endorsement, I don't know what is. When guys like Delvon Roe and Draymond Green are looking good – not to mention Kalin Lucas and Korie Lucious not showing any ill effects of surgery – things are really good.
Can't wait to see what happens when MSU faces off against Duke on Dec. 1.
Mike Miller's also on Twitter @BeyndArcMMiller, usually talkin' hoops. Click here for more.